Having a 1200W power supply in your system is crucial if you have power-hungry hardware installed on your system. This statement becomes more true for Nvidia's RTX 4000 Series GPUs that feature a 16-pin 12VHPWR power connection that can deliver power up to 600W right away.
Last year, Intel set the new ATX 3.0 standard guidelines for PSU manufacturers (these are the guidelines that manufacturers have to follow so that power-hungry graphics cards don't crash a PC.
Given that, the upcoming high-wattage PSU models are now ATX 3.0 and PCIe 5.0 compliant, with most of them having a native 16-pin connector or a first-party adapter to fuel any energy-demanding hardware.
When it comes to picking a power supply for my own PC, then I really don't go beyond 850 watts. But as I've said earlier, gaming hardware, especially the latest GPUs now eats more power, so you have to opt for PSUs that are between 1000W to 1200W.
Now 1200W is an enormous amount of power to fuel high-end gaming machines with overclocked components, workstation PCs, crypto mining rigs, or high-performance servers.
Please keep in mind there's no need to buy such a high-end PSU if you are a light productivity user or a gamer with a low TDP graphics card.
So this guide includes some of the most reliable 1200W PSU for building a high-end gaming PC or workstation. One of my favorites from the list is the Seasonic Vertex GX-1200 which is the most silent, efficient, and powerful when it comes to true power.
Best 1200W PSU for Gaming & Workstation PCs
Here are the most recommended options:
Seasonic Vertex GX-1200 – Overall Top Pick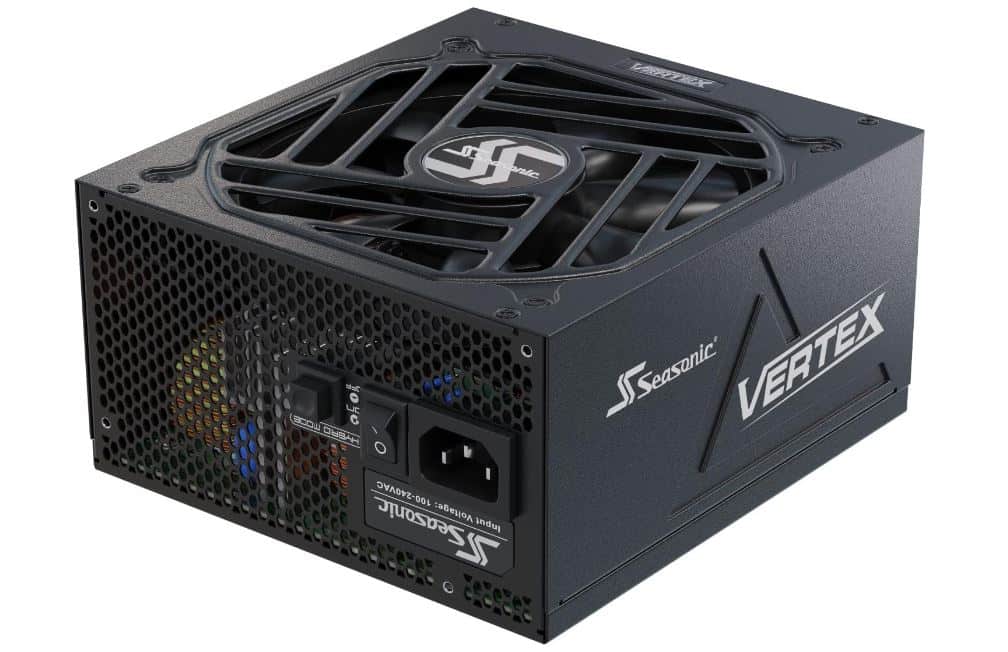 Wattage: 1200W | Modularity: Fully Modular | Efficiency: 80 Plus Gold,
Reasons to Buy:
Super silent even at peak loads
Native 12VHPWR power connector
Easily handles the RTX 4090 and other beefy cards
10 years of warranty
Reasons to Avoid:
Expensive
The competition offers more Titanium & Platinum efficient PSUs for less price
Seasonic Vertex GX-1200 is my favorite pick when it comes to high-wattage power units. Remember that Intel has set the new ATX 3.0 standard for PSUs, which Seasonic Vertex GX-1200 obeys right out of the box.
It comes with the new PCIe 5.0 12VHPWR connector that you may require to power one of those beefy GPUs in the RTX 4000 Series.
The reason I like this PSU is not because of its immense 1200W rating, but the way it stays silent even under heavy workloads. Thanks to the fluid dynamic bearing fan installed by Seasonic which makes the whole operation super quiet even at full throttle.
When it comes to the design of Seasonic Vertex GX 1200, then it's really a simple unit with a black metallic body. There are no fancy RGB flashing through anywhere that you usually find in most PSUs with such a higher price tag.
The good thing is, the Seasonic Vertex GX 1200 is fully modular, which means you can simply plug in the cables that you really need to power up your hardware.
This will also result in nice and clean cable management as there would be no useless cables hanging around.
Seasonic Vertex GX 1200 comes with an 80+ Gold Efficiency rating, which I think is the best value you can get with a 1200W like this one.
But when you keep an eye on the competitor PSU models with 1000W to 1200W ratings, you'll likely end up getting either a Platinum or Titanium-rated PSU for a similar price.
No doubt, Seasonic Vertex GX 1200 is way more expensive than many other PSUs in the competition, but its super silent operation, ability to handle the latest graphics cards, and 10 years of warranty put every flaw on one side to go with it.
Corsair RM1200x Shift – Best Value 1200W PSU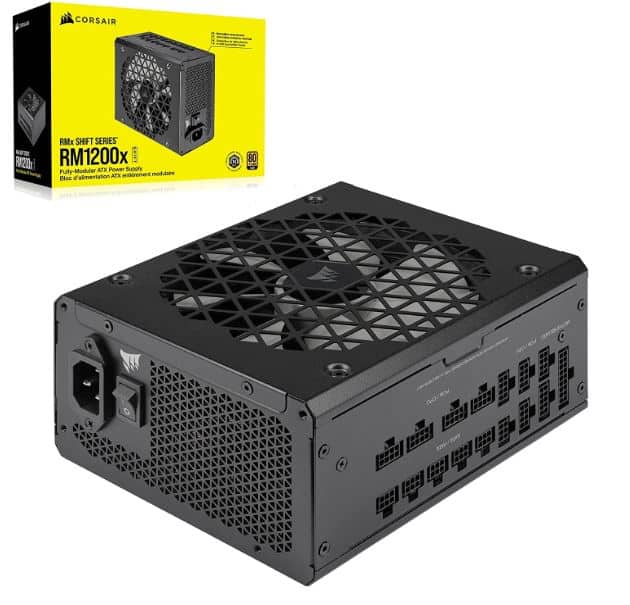 Wattage: 1200W | Modularity: Fully Modular | Efficiency: 80 Plus Gold,
Reasons to Buy:
Runs silent with up to 70% workload
OPP, OTP, OVP, OCP, SCP, protection
ATX 3.0 and PCIe 5-0 compliant
105°C-Rated high-quality capacitors
Reasons to Avoid:
Difficult to fit inside PC cases with small PSU chamber
I appreciate the Corsair RMx Shift Series PSUs for their self-positioned DC connector panel. This allows the users to connect any hardware cables into the modular connection from the side face, resulting in better cable management or upgrading your PC later on.
Corsair RM1200x Shift offers the same ATX 3.0 and PCIe 5.0 standard as we found on the Seasonic Vertex GX-1200 PSU. The PSU box comes with PCIe 5.0 12VHPWR that you may need to power up energy-demanding cards in the RTX 4000 Series.
I really liked the super silent operation of this power supply even when the workload was over 50%. Thanks to the fluid dynamic bearing 140mm fan that syncs perfectly with the Zero RPM support mode included by Corsair to optimize airflow.
Moreover, the 80+ Gold rating on the RM1200x Shift PSU offers up to 90% of efficiency at 50% workload. At 12V+ rail, this 1200W PSU can provide a maximum of 100A of voltage, which I believe is plenty to handle any latest graphics card available as of today.
As the modern CPUs and graphics cards are becoming more energy-efficient, I don't think that any of those hardware components will ever cross the 600W to 900W wattage barrier.
When it comes to the overall design of the RMx SHIFT series PSUs, then all of them are visually appealing with dark accents and a little bit of extended ATX length than the competitor PSUs.
The cables and connectors that come with the 1200W RMx Shift PSU match with the other parts, giving a uniform look to your cable management and overall aesthetics.
Finally, Corsair has used high-quality 105-C rated Japanese capacitors from reputed brands to craft this PSU. All of this adds another 10 years of warranty so that you can use this unit without any worries.
Overall, the Corsair RM1200x Shift comes with true 1200W of power to fuel your entire high-end gaming PC or workstation. The presence of modular connectors at the side bay offers more convenience if you have a PC case that easily supports it.
Please note that not every PC case would support such type of PSU. You have to make sure there are no plastic or metal parts in the way of the PSU's modular connections.
You may have to invest in a PC case that offers a wide PSU chamber to properly fit in Corsair RM1200x Shift.
Be Quiet! Straight Power 11 Platinum – Best Performance 1.2KW PSU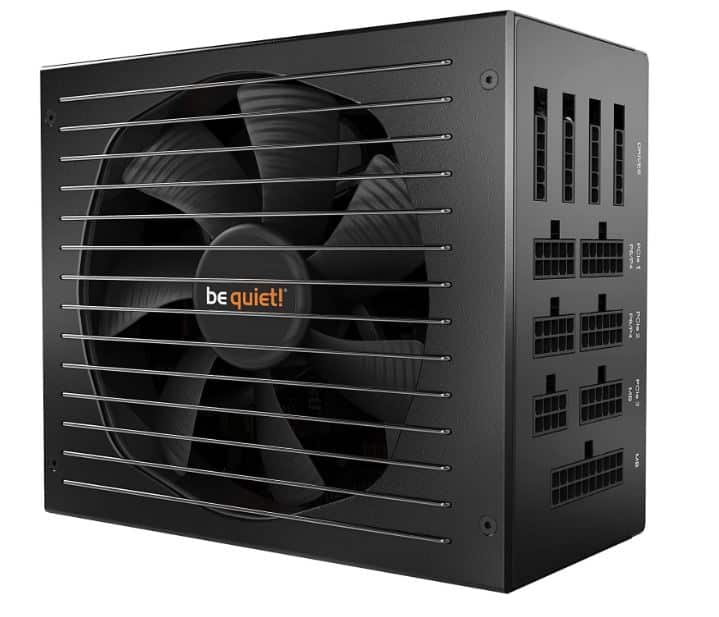 Wattage: 1200W | Modularity: Fully Modular | Efficiency: 80 Plus Platinum
Reasons to Buy:
Upto 93.9% efficient
Quiet operation
Ripple suppression
Japanese caps
External fan control
Warranty
Reasons to Avoid:
Higher price tag
No stealth/flat cables
5 years warranty only
If you are looking for high-end PSUs that are silent and performance-oriented at the same time, then I highly recommend going with the ones from be quiet! brand.
I think that be quiet! knows not many users can afford the higher-priced PSUs in the Dark Pro 11 Series. So, this is the reason why Straight Power Series was introduced so that sophisticated users and PC builders can enjoy the premium features.
The Straight Power 11 1200W is the top-of-the-line PSU from the company that breaks all the barriers and puts you at the front line of performance. It's one of the most silent PSUs from be quiet!, right after the PSUs in the Dark Pro Series.
To make the operation dead silent, be quiet! has integrated Silent Wings 3 135mm fan with a unique blade design and fluid dynamic bearing, the similar technology that we found on the Seasonic and Corsair PSUs in the list.
The PSU also has a funnel-shaped fan inlet for pushing more air inside to cool down capacitors and other components. The funnel inlet results in increased airflow and higher cooling performance.
The Straight Power 11 shows great improvement over the previous generation, the Straight Power 10. One of the significant improvements is the lower noise of 8.9-dBA at full workloads compared to the previous Pro 10 models.
Right out of the box, the Straight Power 11 1200W Platinum raises the bar for gaming, workstation, or content-creation PCs that demand pure efficiency and inaudible operation.
Its 80 Plus Platinum rating lets you achieve up to 93.9% efficiency at peak workloads. So, if you have a high-end machine on your desk, then a higher efficiency rating would result in less power consumption and a cooler unit.
Be quiet! Straight Power 11 1200W Platinum PSU comes with fully modular cables for utmost convenience and compatibility. Just plug in the cables that you need to give a tidy and slick look to your case.
If we talk about the internals of Straight Power 11 units, then be quiet! has used the same Japanese 105-C rated capacitors that we found on the Corsair RMx Shift 1200W PSU.
So the use of high-quality components would ensure reliability, stability, and longer life of the unit. You get 5 years of warranty with this unit, which I believe should be at least 10 years.
But keeping in mind the quality of components used in building this unit, I think 5 years of warranty also does the justice.
Also, the box misses out on some of the necessary cables like the PCIe 5.0 12VHPWR that one might need to power up future generation graphics cards. But using any third-party adapter cable with this PSU would solve this, so it's not a big issue.
Within the box, there are 3x dual 6+2 GPU PCIe Cables that you can use to power up any high-end graphics card.
All in all, be quiet! Straight Power 11 1200W is the most reliable PSU out there for PC builders. It has a robust build and material quality as compared to its competition.
Its ability to touch up to 93.9% efficiency while barely touching 50% workload justifies its higher price tag. On top of all, the Straight Power 11 1200W stays super silent under intense workload doing justice to its brand name.
Phanteks Revolt X 80+ Platinum – Best Compact 1200W PSU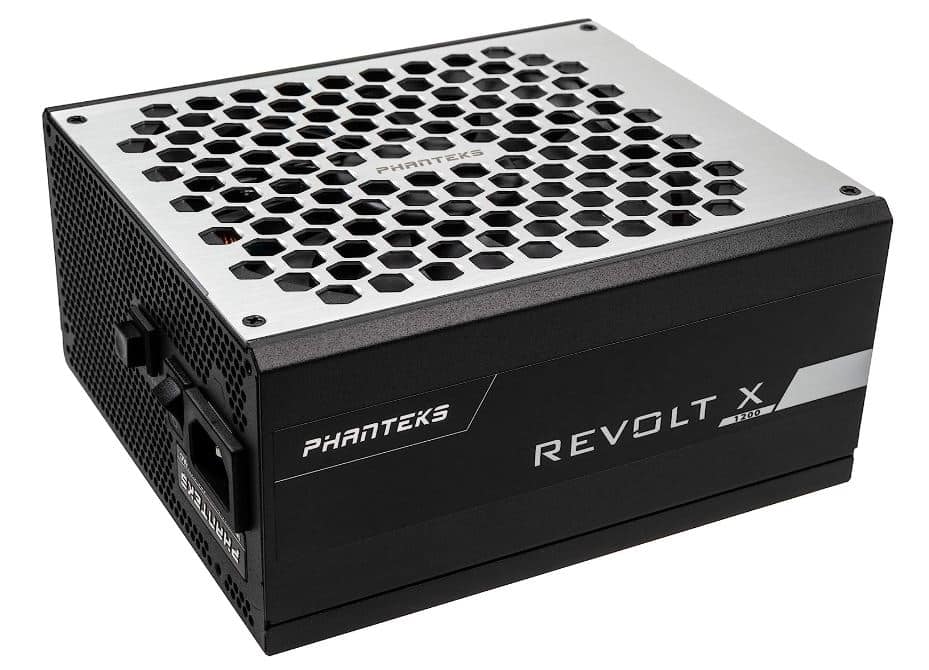 Wattage: 1200W | Modularity: Fully Modular | Efficiency: 80 Plus Platinum
Reasons to Buy:
Great aesthetics
Excellent build quality
Dual motherboard connectivity (2x24pin / 3x8pin)
Electrical Protections (OCP/OVP/SCP/OPP/OTP)
12 years warranty
Reasons to Avoid:
Expensive
Lacks ATX 3.0 compatibility
Phanteks might not be too much popular in the world of power supplies. But when you know that Seasonic has assisted in creating Revolt X Series PSUs, then you know that there's something promising that you'll get.
The Phanteks Revolt X 1200W packs so much power that it can power up dual motherboards at the same time. Yes, the power splitter feature allows you to run two systems at the same time, even if you off one of them, the other one won't have any effect and keep running.
There are two 24-pin power outlets on this PSU and four CPU power connections to easily run dual systems at the same time. This would be an ideal 1200W PSU for someone looking to build a workstation or crypto mining rig.
Just like the be quiet! Straight Power 11, the Phanteks Revolt X achieves an efficiency of 92% under 50% workload. This is very close to the 93.3% we found on the Straight Power 11 1200W PSU.
To cool things down, the unit comes with a 135 dynamic bearing fan that features a hybrid mode with a controllable switch. The fans don't function unless the workload reaches up to 40%, making the entire unit super silent.
When it comes to endurance and durability, the Revolt X 1200W is fully protected with OCP,OVP, SVP, etc protection standards to prevent any damage to the unit.
If we talk about the quality of capacitors used, then again you will premium-end capacitors from Japanese Nippon Chemi-Con that are able to operate at 105 degree centigrade.
These are the same caps used in all the other PSUs that are listed in this guide. However, Phanteks keeps the promise that nothing would happen to this unit for a long time. So, this time you will get a 12 years long warranty with the Revolt X 1200W.
Although the Phanteks Revolt X 1200W isn't ATX 3.0 and PCIe 5.0 compliant, this doesn't affect its ability to power up the most power-hungry graphics cards.
I believe that some third-party adapter cables or converters would suffice to power any GPU that you connect to this PSU.
What I liked most about this PSU apart from its gigantic 1200W power is its design. With a black body on all sides and a top brushed aluminum grille (in white color), the entire unit looks aesthetically appealing.
Overall, the Phanteks Revolt X is the best 1200W PSU if you are planning to have a dual-system setup. I mean spending money for just the sake that it has two motherboard power connectors doesn't makes any sense unless you use it.
So, if you have another system that you need to power up at the same time, then yes this 1200W has all that it takes to run two systems independently.
Physically, Revolt X 1200W is slimmer than all the other PSUs on the list. So installing this PSU inside smaller PC cases isn't an issue.
Conclusion
Finally, these are some of the top-rated 1200W power supply units for extreme PC builds. Now if I had to choose from one of these, then it would always be the Seasonic Vertex GX-1200. The reason behind that is its super silent operation, native compliance with ATX 3.0 and PCIe 5.0 standards, and higher efficiency at peak loads.
Testing Methodology
Testing a PSU to its limits is a very difficult task, especially when the components you are using barely touch the 700W barrier. This is where the older (power-hungry components) come into play as they were known to draw enormous amounts of power out of your PSU.
So for the purpose of testing these PSUs, I bought a Chroma setup, Intel Core i7 920 CPU, and AMD Radeon R9 295X2 that draws almost 500W of power.
After that, I used Passmark BurnIn Test to overstress every component in my PC so that the power demand surges to its highest. And on top of that, I installed the PSU testing suits of OCCT 4.4 which is known for bringing down most high-end PSUs to their knees.
As far as the measurement of noise levels is concerned, I used a third-party decibel meter from Amazon. To measure the sound, I placed the dBA meter in front of the PSU fan at a distance of 5cm to 10cm.
As you know that it's very difficult to measure 100% sound levels because of the surrounding environment. An alternative option is to run your PC in a noise-isolated room, which is practically difficult.
Understanding the PSU 80 Plus Efficiency Rating
The table below will help you better understand the 80 Plus rating. Also, note that the efficiency rating depends upon the PSU manufacturer.
| 80 Plus Rating | Efficiency at 20% Workload | Efficiency at 50% Workoad | Efficiency at 100% Workload |
| --- | --- | --- | --- |
| 80 Plus | 80% | 80% | Efficiency at 50% Workload |
| 80 Plus Bronze | 82% | 85% | 82% |
| 80 Plus Silver | 85% | 88% | 85% |
| 80 Plus Gold | 87% | 90% | 87% |
| 80 Plus Platinum | 90% | 92% | 89% |
| 80 Plus Titanium | 90% | 94% | 96% |
FAQs
How do I know if my system requires a 1200W PSU?
To find this out, simply calculate the total power draw or TDP of all the hardware (CPU, GPU, RAM, SSD, etc) that you intend to install inside your system. If the total wattage is over 1000W or close to 1200W, then you need to get a 1200W PSU for your system.
Are 1200W power supplies compatible with all PC cases?
No, not 1200W PSUs are not universally compatible with every PC case. Most 1200W PSUs are beefy or larger in size and can be difficult to fit in small form factor chassis or cases with limited room. Make sure that your PC case has a large chamber if you are planning to install higher-wattage PSUs.
Can a 1200W PSU save energy compared to a lower-wattage PSU for lower-power systems?
No, a 1200W PSU cannot save energy compared to a lower-wattage PSU. In order for a power supply to be efficient, it has to operate close to its rated workload. If your system's power requirements are less than 1200W, then using a low-wattage PSU would be more energy-efficient for you.
How many PCIe connectors does a standard 1200W PSU have?
Well, it varies from brand to brand and the category of the power supply. But as higher-wattage power supplies are meant for high-end systems, you will find several PCIe connectors with them in the box.
Generally, there are at least six to eight PCIe connectors with such PSUs to handle multiple GPUs and other components.
Are there any power-saving modes or features in the 1200W power supply units?
Yes, most of these high-end power supplies come with power-saving features like 80 Plus Certification, Active PFC, Zero RPM fan mode, Sleep/Standby mode, and modular cabling bay.
Can a 1200W PSU future-proof my system for potential upgrades?
Yes, installing such a high-wattage PSU can future-proof your system up to some extent. A power supply with such an enormous amount of power would provide enough headroom for higher TDP hardware that you may install in the future.
In the future, you can install multiple GPUs or overclock your GPU or CPU if you have a 1200W PSU in your system. This will save you a lot of money as you won't have to buy a new power supply every time.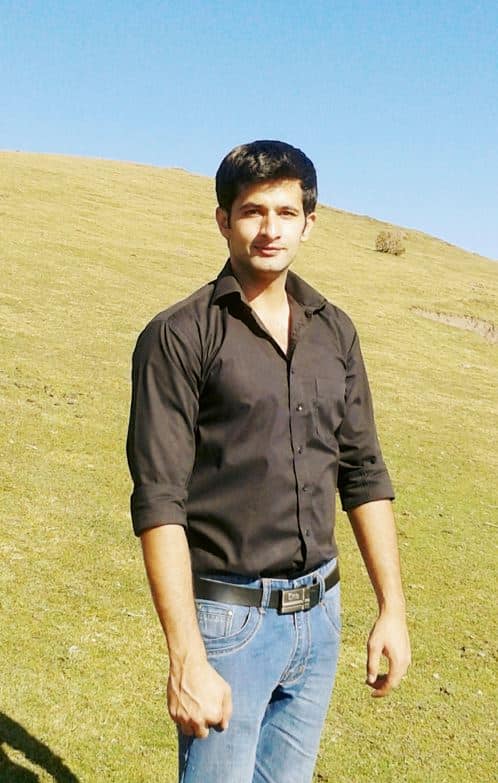 Hi, my name is Masab, a die-hard PC enthusiast and founder of this blog. I love to share my prior experience with computers on this blog. Ask me anything about building a PC or troubleshooting PC errors, I'm here to help.