As we delve into the world of best motherboards for music production, you will see a lot of choices on your desk. The motherboard you choose affects your music production performance in different ways.
First of all, it's your motherboard that decides what kind of CPU (Processor) you will install on it. If your motherboard supports the latest generation CPUs, then it would be easier for you to render your music files quickly without any delays or glitches.
CPUs with more cores and threads are able to handle multiple music tracks, effects, and virtual instruments at the same time. This results in reduced latency and smoother audio playback.
Secondly, it's your motherboard that decides the amount and type of RAM you can install on it. Many music production DAWs rely on more RAM to quickly render music samples while reducing loading times.
Finally, if your motherboard comes with expansion slots, then you can install worthy hardware used in music production like a high-quality sound card, DSP cards, or a dedicated sound interference card, etc.
Modern motherboards come with advanced I/Os ports like Thunderbolt ports or USB 3.2 Gen 2 ports that allow you to connect external audio devices and other MIDI devices to your computer.
The latest motherboards on the market come with HD audio ports for crystal-clear sound output.
Similarly, onboard Wi-Fi and fast ethernet ports on a motherboard also play a crucial role in connecting you with other musicians around the world.
In this guide we have listed the motherboard that supports the latest CPUs, surplus amount of RAM, and advanced I/Os to be part of your music production studio.
Best Motherboards for Music Production & DAW
Consider the options below:
GIGABYTE Z690 Gaming X DDR4 – Overall Best Pick
Form Factor: ATX| Chipset: Intel Z690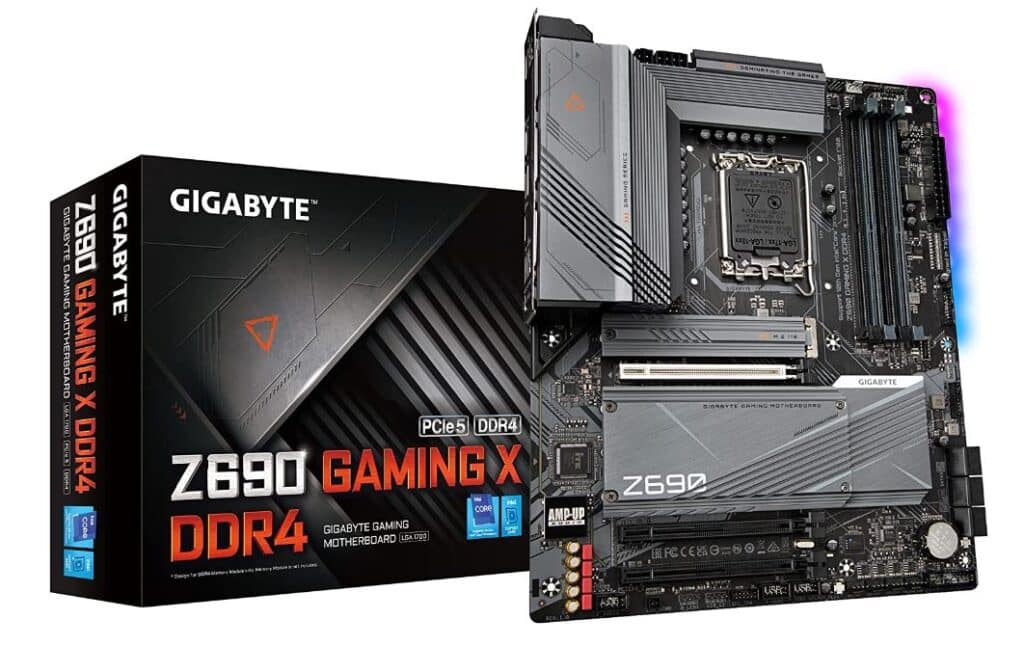 Reasons to Buy:
Decent design
Plenty of advanced USB ports
PCIe 5.0 compatible
Affordable
Reasons to Avoid:
No built-in Wi-Fi
Limited fan headers
The Gigabyte Z690 Gaming X motherboard is available in two versions, the DDR4, and the DDR5. We got the DDR4 version for the sake of this guide because it's cheaper as compared to the DDR5 version.
The Z690 Gaming X features the Intel Z690 chipset and caters to some of the fastest processors in Intel's 12th generation. The board has 16 Vcore phases to deliver the maximum amount of power to any 12th gen CPU you install on it.
There are four DIMM slots available on this motherboard that can accommodate a maximum of 128GB of memory. So, you won't fall short of physical memory if you are dealing with complex audio or video editing tasks on your system.
The good news is that the Gigabyte Z690 Gaming X is ready to home PCIe 5.0 devices that offer double the amount of bandwidth as compared to the PCIe 4.0 devices.
This means you can expect higher data transfer speed and communication among all the devices connected to this motherboard.
The thing that I really liked about this motherboard is the Fully Covered Thermal Design and High Coverage MOSFET design. The massive heatsinks on this motherboard cover most part of it, enveloping four M.2 slots and all of the 16 power phases.
Well, the motherboard comes with up to 9 Type-A USB ports along with some USB 3.2 Type-C ports. This means you connect several high-speed devices to this motherboard at the same time.
Moreover, there are the as-usual HDMI and DisplayPort for connecting high-resolution monitors.
Let's move down to the type of audio production performance you can expect from the Gigabyte Z690 Gaming X motherboard.
The motherboard has the most needed audio jacks and a S/PDIF output port on it, so you'll hardly feel like adding any external sound card on it to get your audio work done.
Gigabyte has used Realtek's ALC1220 codec on the Z690 Gaming X motherboard, which is mostly found on budget-friendly or mid-range motherboards on the market.
Therefore, you can expect this motherboard to deliver a strong audio performance if you are working with different DAWs in your lab.
All in all, the Gigabyte Z690 Gaming X DDR4 motherboard allows you to install the latest hardware on the market to boost your music production experience.
There are plenty of USB ports on this motherboard, allowing you to add the latest devices used in audio production. I wish Gigabyte had included a built-in Wi-Fi antenna on this motherboard, but you can cover this up by attaching a third-party Wi-Fi adapter in one of the USB slots available.
ASUS TUF GAMING Z690-PLUS WIFI D4 – Best Value Motherboard for Music Production
Form Factor: ATX | Chipset: Intel Z690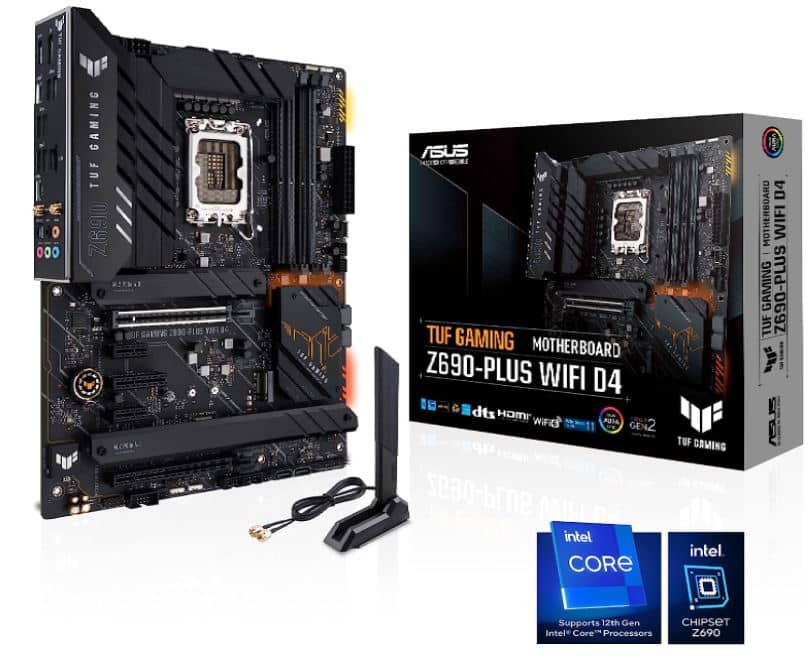 Reasons to Buy:
Solid design
Built-in Wi-Fi
M.2 slots and 16-phase VRM cooling
Enough USB and audio ports
Reasons to Avoid:
No built-in Wi-Fi
Higher price tag
I had installed the ASUS TUF Gaming Z690 Plus Wifi D4 motherboard in one of my old workstations built around the Alder Lake processor. To be honest, this is one of those boards that give you the most value for your money in content creation.
It's slightly more expensive than the Gigabyte's Z690 Gaming X motherboard. And the reason for that is the built-in Wi-Fi 6E and native support for PCIe 5.0 platform.
Built around the Z690 chipset, the TUF Gaming Z690 Plus Wifi D4 gives you a solid platform for mounting Intel's Alder Lake processors.
And with DDR4 support, you can simply plug out your old DDR4 RAM and swap them right away in this new motherboard.
This board brings you a step further when it comes to installing up to four M.2 devices at a single time.
Not only this but there are extra four SATA slots to expand your storage if you are a professional music producer and need a lot of storage for saving your audio files.
There are a decent number of expansion slots on this motherboard for installing dedicated hardware. With that being said, you can simply install a powerful sound card or related hardware for improving your sound quality when needed.
At the rear panel, there are tons of USB and other useful ports to go with. The TUF Gaming Z690 Pluse offers up to four USB 3.2 Gen 1 Type-A ports, two USB 3.2 Gen 2 ports, and two USB Type-C for connecting the latest hardware and transferring data at a lightening fast speed.
At the same rear panel, you'll find up to five 3.5mm jacks for dealing with your audio hardware. Just like the Gigabyte Z690, the ASUS TUF Gaming Z690 features a S/PDIF out port for superior audio transfer through an optical fiber to enjoy digital sound at its best quality.
ASUS has also added an HDMI port and DisplayPort in case you are not using a discrete graphics card. Along with that, there's an ethernet port and a Wi-Fi 6E antenna to connect your music library to the outside world.
If we talk about the audio performance of this motherboard, then neither too premium nor low. You can say that the audio output of this motherboard is of mediocre quality.
I've found Realtek ALC 1220 codec on this motherboard, this is the same codec that is found on the Gigabyte Z690 Gaming X mobo. So, you can expect decent audio output from this motherboard when rendering multiple audio layers in any DAW software.
The ASUS TUF Gaming Z690 Plus Wifi D4 is an all-rounder Intel motherboard for music producers. The audio quality on this board will let you sail through audio production projects without any issues.
But if you feel like getting more out of high-end codecs, then simply there are enough expansion slots on this motherboard to install a high-end sound card.
Just to let you know that the microphone jack also produces some noise if you add too much boost to it, so be sure to stick it to +10dB or so.
All in all, it's a great Z690 motherboard for content creators. The only thing that might keep you away from getting this board is the higher price tag. For some of you, the TUF Gaming's B660 would be a less expensive deal to grab than this version.
ASUS AM4 TUF Gaming X570-Plus (Wi-Fi) – Best AMD Motherboard for Music Content Creators
Form Factor: ATX | Chipset: AMD X570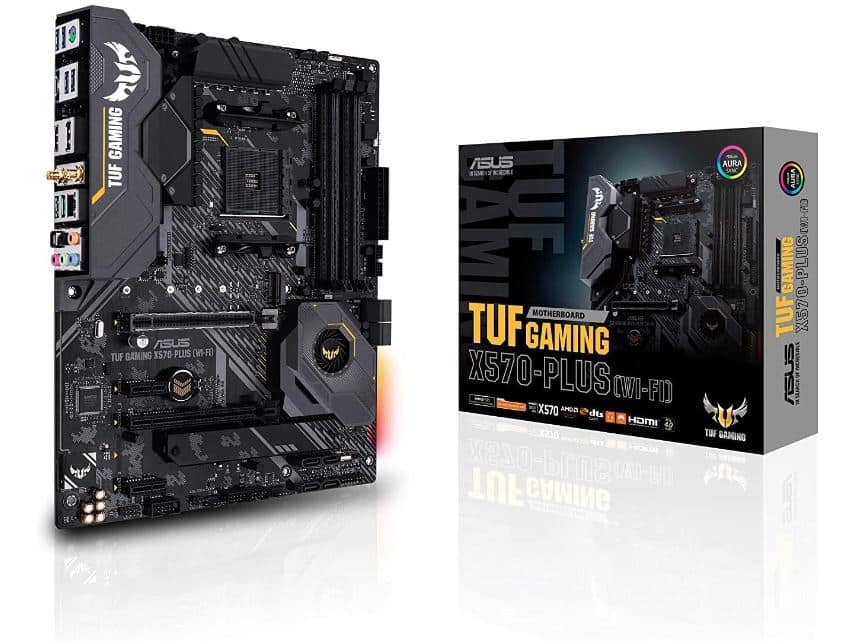 Reasons to Buy:
Affordable price
USB 3.1 Gen 2 Type-C port
Wi-Fi
RGB Lights
Reasons to Avoid:
This is one of those motherboards that are natively made for Ryzen 5000 Series processors. It's one of the least expensive motherboards in the X570 Series to be found on the market with lavish features like Wi-Fi, high-speed USB ports, and a bit of RGB touch.
The board also features two PCIe 4.0 M.2 slots for fast data access. It's low-cost gives you some hope to install some of the flagship chips from AMD's Ryzen 5000 Series.
The ASUS TUF Gaming X570-Plus also features 4 DIMM slots for expanding your physical memory. And there are eight SATA ports on this motherboard to expand your local storage.
When it falls down to the Audio department, the ASUS TUF Gaming X570-Plus is backed by Realtek ALC S1200A audio codec with 7.1 surround and DTS audio.
Powered by the Realtek ALC S12000A audio codec, you can expect a high-quality audio sound. The audio signal is designed differently on a separate PCB board and there's an audio cover to shied it.
But for normal users who just want to buy this motherboard for the sake of music creation, I don't believe ALC S12000A would make any difference to the sound quality.
But if you still have your old sound card with you, then I highly recommend you to rely on that if you want better sound quality.
At the back panel of this motherboard, you'll find all the much-needed audio jacks and ports for connecting your audio devices at the same time.
Moving on, the TUF Gaming X570-Plus offers plenty of I/Os at the back panel. In terms of USB ports, you are welcomed by 4x USB 3.2 Gen 1 (Type-A), 1x USB 3.2 Gen 2 (C), and 2x USB 3.2 Gen2 (A) ports.
Also, there are 3 x PCIe 4.0 x1 slots for adding any external sound card, MIDI controllers, and other audio interfaces if needed. In total, there's plenty of upgrade room for users who want to add extra peripherals later on.
The most salient feature of this motherboard is the on-board Realtek L8200A Wi-Fi. You can simply connect to your local wireless network without connecting any external Wi-Fi card in your system.
All in all, the ASUS TUF Gaming X570-Plus delivers you the kind of content creation juice that you may need as a beginner. It offers far better features for a lower price when you compare it with other boards on the market.
If you are looking for an AMD motherboard that holds a glimpse of premium features without breaking your bank account, then ASUS TUF Gaming X570 Plus Wifi is a great deal to go with.
ASUS ROG Strix B550-F – Budget-friendly Pick
Form Factor: ATX | Chipset: B550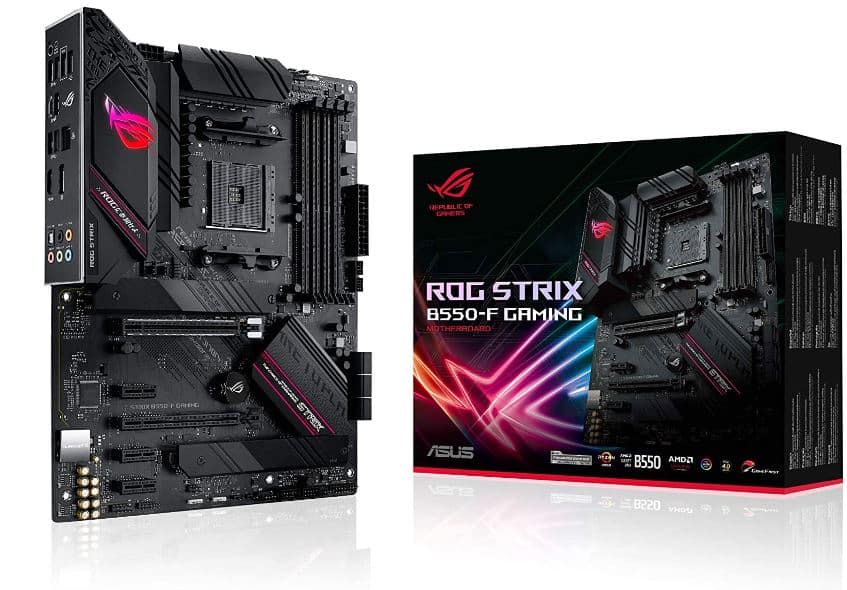 Reasons to Buy:
14-Phase power delivery
2.5 GbE LAN and Wi-Fi 6 AX200
Excellent Audio Quality
Reasons to Avoid:
Limited USB Ports
Still expensive than similarly specced motherboards
Although the ASUS ROG Strix B550-F is the least expensive motherboard for music producers on our list, it is equipped with premium features like SupremeFX audio, Intel's Wi-Fi 6 AX200, and a 14-phase power delivery system to bump up the performance of high-end CPUs.
During my research for the ASUS TUF Gaming X570 Plus, I found out that there are many less expensive motherboards that offer premium features as well.
This was the moment when I came across the ROG Strix B550-F which is my favorite pick for budget-oriented content creation PC builders.
By spending just under $200, you get a motherboard backed by 14-phase power delivery, WiFi 6, dual M.2 slots, six SATA slots, high-end SupremeFX S1220A audio codec, and a bunch of fast USB ports.
The motherboard support up to four DDR4 DIMM slots that can handle physical memory up to 128GB. For professional music producers or content creators, this is a whole lot of memory space to play around.
Moving down to the audio section of the board where input sensitivity is set to automatic and ranges between 32-600 Ohm offering decent flexibility and high output.
The audio stack on this motherboard consists of the same pattern you'll find on many modern motherboards these days. There are a total of 5 analog audio inputs and one SPIF output.
Along with the audio section, you'll find two antennae for built-in WiFi, which I believe is a wonderful thing to be found on a cheap motherboard like this one.
The rear panel itself is bombarded with a lot of I/Os out of which eight are the USB ports. ASUS ROG Strix B550-F is equipped with USB 3.2 Gen2 (Type-A and Type-C), four USB 3.2 Gen1 and two USB 2.0.
Along with the USB ports, you'll find the HDMI and DisplayPort for video output. So, there are tons of options available for content creators to connect the latest devices on this motherboard.
Finally, the ASUS ROG Strix B550-F motherboard offers you the much-needed features that you may need in a content creation scenario, but it still misses out on the availability of ports like USB 3.2 Gen2 (20 Gbps) port.
Secondly, the price tag it comes at is still affordable, but there are many other motherboards on the market that offer you the same features for a very low price.
But as our concern was to buy this motherboard for producing high-quality music, we can leave the price to one side. The SupremeFX audio chip integrated by ASUS does the job well in producing and playing music.
The Final Words
So these were some of the high-performance motherboards for music production. If I had to choose from one of these motherboards, then it would be the GIGABYTE Z690 Gaming X DDR4 which supports the latest generation Alder Lake CPUs and PCIe 5.0 compatible devices. This motherboard also offers plenty of advanced USB ports and high-quality audio codecs.
The only thing that you may have to sacrifice for is the Wi-Fi, the Gigabyte Z690 Gaming X doesn't comes with built-in Wi-Fi, which I believe doesn't affect your music production performance.
And if you are low on budget, then the only choice to go with is the ASUS ROG Strix B550-F, not only is it's cheaper but it comes with some of the most advanced features like WiFi 6, SupremeFX audio codec, and dual M.2 slots.
Both of these motherboards come with plenty of I/Os and expansion slots to install third-party hardware if needed for producing high-quality music.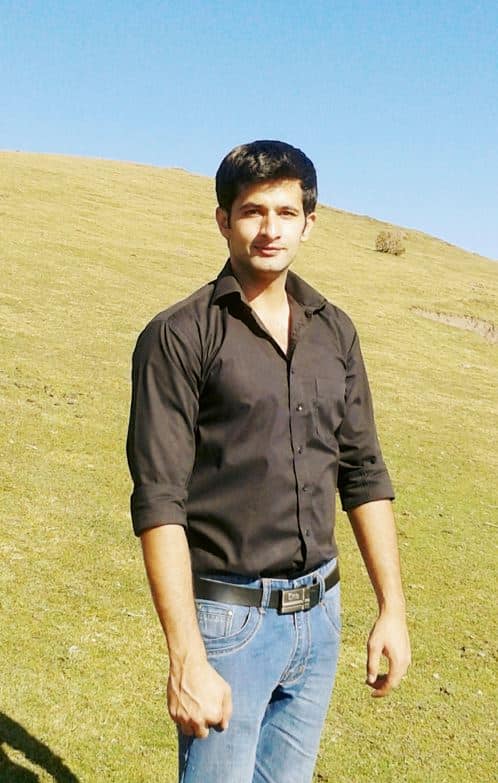 Hi, my name is Masab, a die-hard PC enthusiast and founder of this blog. I love to share my prior experience with computers on this blog. Ask me anything about building a PC or troubleshooting PC errors, I'm here to help.