DDR5 modules have already made their place in the PC gaming industry. Although DDR4 RAM kits are still more expensive than DDR4 kits, they bring more performance to your gaming desk. In this guide, we will review some of the best DDR5 RAM to have in your gaming PC.
As soon as you step into the world of DDR5 kits, you are welcomed by a higher clock speed of 4800MHz right out of the box. Moreover, every single DDR5 stick can accommodate space up to 128GB. DDR5 kits consume low power and come with a higher base clock speed to make your build future-proof.
Our Top 3 DDR5 RAM Kits
| | | | |
| --- | --- | --- | --- |
| Image | RAM | Reason | Shop |
| Our Pick | TEAMGROUP T-Force Delta RGB | Affordable | |
| Best Value | Corsair VENGEANCE | Price-to-performance ratio | |
| Performance Pick | Crucial DDR5-4800 | Future-proof | |
To be honest, most games efficiently run with the current clock speeds than DDR4 kits have to offer. Also, PC games are more sensitive to CAS Latency, and DDR4 modules still offer lower CAS Latency than DDR5 modules.
So having DDR5 RAM between 4800MHz and 6400MHz won't give you any extra performance gain in gaming unless they come with lower CAS Latency. The higher bandwidth and speed of DDR5 would create more differences in content creation workloads.
But we really don't know about the upcoming AAA games and how those titles would react to DDR5 memory. Maybe the AAA games in the near future are readily optimized to make full use of DDR5 RAM sticks.
The DDR5 memory kits that we've tested in our lab deliver the right price-to-performance ratio at the moment. We've also stated the reasons why you should buy these DDR5 kits based on your budget and needs.
Quick Comparison
| | | |
| --- | --- | --- |
| RAM | Capacity | Clock Speed |
| TEAMGROUP T-Force Delta RGB | 32GB | 5200 MHz |
| Corsair VENGEANCE | 32GB | 4800 MHz |
| Kingston Fury Beast | 32GB | 6000 MHz |
| Crucial DDR5-4800 | 64GB | 4800 MHz |
| Adata XPG Lancer | 16GB | 5200 MHz |
All DDR5 RAM Modules Compared
Best DDR5 RAM for Gaming Builds
Here are the top modules to consider:
TEAMGROUP T-Force Delta RGB – The Overall Best DDR5 Memory for Gaming PC
Capacity: 32GB (2×16) | Clock Speed: 5200MHz | CAS Latency: 40 | Voltage: 1.35V
Reasons to Buy:
Supports Intel XMP 3.0 for one-click overclocking
Affordable price tag
Supports on-die ECC for system stability
RGB aesthetics
What Type of Performance You Can Expect:
The Teamgroup T-Force Delta RGB would be enough to handle high-end gaming and content creation workloads. If you are gaming as well as editing content at home, then this DDR5 module would give you plenty of value for that.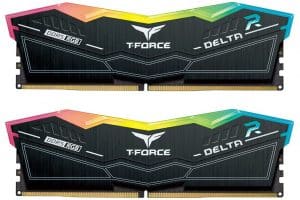 ---
When it comes to picking the right DDR5 memory, it's wise to start with the brand that offers performance and affordability in one package. If you are upgrading from DDR4 to DDR5 RAM for the first time, then it's highly recommended to go with TEAMGROUP.
The TEAMGROUP T-Force Delta RGB-5200 has everything from RGB lights to Intel's XMP 3.0 to overclock it in a single click. We would have chosen the 6400MHz version, the fastest kit on the market right now, but that would be overkill for current games and applications.
Good to Know

XMP or Xtreme Memory Profile is an Intel technology that allows you to run your RAM at higher clock speeds without caring about voltage, frequency, and timings. It's super easy with XMP to overclock your RAM in few clicks.
Each stick in this kit comes with a base clock speed of 5200MHz and a capacity of 16GB, totalling up to 32GB. Having a 32GB DDR5 is enough to meet your every gaming and content creation needs these days.
T-Force Delta RGB-5200 is enough to push your games to ultra-high settings or edit content at higher resolution. Lastly, TEAMGROUP has added stunning RGB aesthetics to these sticks that can be customized to match the scheme of your gaming rig.
These two DDR5 sticks are under $200 right now on Amazon. For beginners who are tight on budget and don't want to spend too much on DDR5 modules, this is the right deal to start with.
Faster performance
Headroom for overclocking
Great aesthetics
Price instability due to limited stock
Corsair VENGEANCE – Best Value DDR5 RAM
Capacity: 32GB (2×16) | Clock Speed: 4800MHz | CAS Latency: 40 | Voltage: 1.1V
Reasons to Buy:
Overclock up to 5200MHz
Ideal for budget gaming builds
XMP 3.0 Compatibility
What Type of Performance You Can Expect:
This RAM can easily handle AAA gaming workloads and mediocre content creation workloads.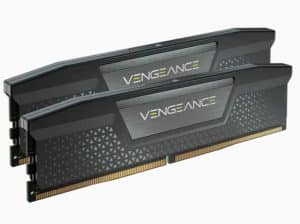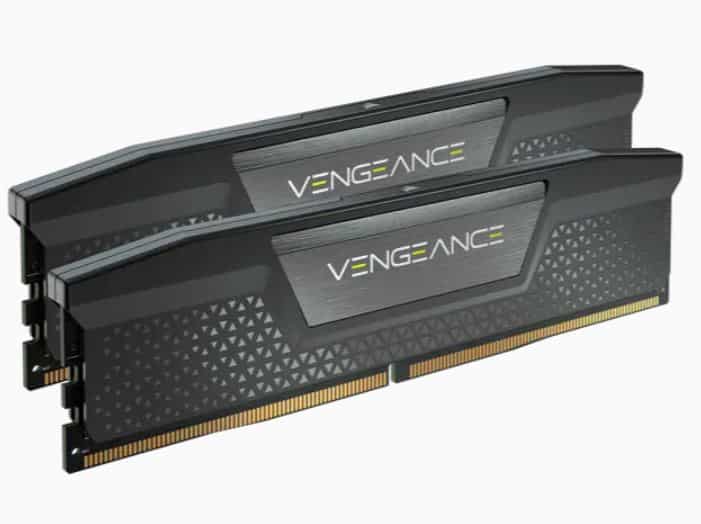 ---
As we've said earlier, a higher clock speed RAM could be overkill for games and applications that are currently available on the market. It's better if we enter the world of DDR5 modules with the minimum clock speed that it has to offer, the 4800MHz.
Corsair Vengeance DDR5-4800 kit is a great option for entry-level or mid-range gaming PCs. Not only this kit would save you a lot of cash, but it would also give you a slight headroom for overclocking it up to 5200MHz.
It's a classic-looking memory module, there are no fancy RGB lights and heat spreaders on it. However, the lower voltage (1.1v) on this memory makes it run cool even if you push it up to 5200MHz.
You can get this DDR5 kit by spending less than $200, and it surely gives you the price-to-performance ratio in this budget range.
Frankly speaking, this low-budget DDR5 kit would be enough to satisfy your gaming hunger. Also, there's no sense in spending piles of cash on buying a higher capacity or clock speed RAM unless you have a high-end gaming machine meant for 4K gaming or content creation.
Maybe in gaming, you won't feel any vast difference between this DDR5 kit and the ones that come in the DDR4 family for the same price range. However, in content creation workloads like video editing, you'll be able to squeeze some extra performance out of this module.
Price-to-performance ratio
Easy to overclock with an XMP profile
Affordable
Kingston Fury Beast – Best High Clock Speed DDR5 RAM for SFF Gaming Builds
Capacity: 32GB (2×16) | Clock Speed: 6000MHz | CAS Latency: 40 | Voltage: 1.35V
Reasons to Buy:
Higher clock speed
Price-to-performance ratio
Low-profile heat spreader design
What Type of Performance You Can Expect:
You can expect this module to easily handle 4K gaming workloads. With games that are more sensitive to physical memory, the higher clock speed of this module would give extra performance.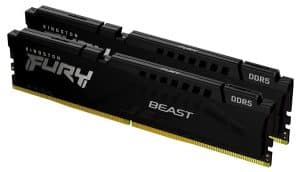 ---
Kingston Fury Beast comes with a low-profile and non-RGB profile to cut extra costs from your bill. This DDR5 kit is housed with low-height heat spreaders to easily fit in small form factor gaming PCs.
Right out of the box, this module has a base clock speed of 6000MHz and a total capacity of 32GB. But as compared to previous DDR5 modules on our list, the Kingston Fury Beast has a very slim headroom for overclocking.
But the truth is, with an amazing clock speed of 6000MHz, we don't think so there's any need of overclocking this RAM to get more juice out of it.
Overclocking your RAM isn't something that die-hard PC gamers think of. Everyone needs RAM that offers more value for the money you pay for it. And the Kingston Fury Beast is reasonably priced as far as the DDR5 goes.
So, if all you need is a solid performance at a low cost, then this is the right DDR5 module to go with. Yeah, it lacks those fancy RGB lights, but that doesn't have to do anything with performance.
This DDR5 kit would deliver ideal performance with Alder Lake's Core i9 CPUs. We found this module highly optimized for Intel's 12th Gen processors. And if you have an Alder Lake chip in your build, you'll get the best performance out of this.
Low profile design
Economical price tag
Limited headroom for overclocking
Crucial DDR5-4800 – Best High-Capacity DDR5 Kit
Capacity: 64GB (2×32) | Clock Speed: 4800MHz | CAS Latency: 40 | Voltage: 1.1V
Reasons to Buy:
Higher capacity makes it ideal for content creation workloads
Low-profile design
What Type of Performance You Can Expect:
The Crucial DDR5-4800 comes with a huge memory capacity and is good enough for gaming and multitasking at the same time. This memory is ideal for someone who is more into hardcore gaming and at the same time edits 4K videos.

---
Again, frankly speaking, there's no way a 64GB DDR5 could boost your gaming performance. So, don't fall for 64GB capacity unless you really have a build that is meant to take advantage of it.
This Crucial 64GB DDR5 comes with two sticks each having a capacity of 32GB. Even a single 32GB stick would be enough to crush your gaming and content creation tasks. But like we've said earlier in the start, you never know that future games or applications would even push further than 32GB.
Having 64GB RAM on your computer would make it future-proof for upcoming years without any doubt. Although the CAS Latency on this kit is similar to what we have found on other modules, it is still faster for high-end gaming and creativity tasks.
Although the price of this kit is higher compared to others on the list, you'll also get plenty of capacity for multitasking if you pair it with the right CPU. But don't spend money on buying this kit if your memory demands are less than 32GB.
Cheaper
Enough headroom for overclocking
Compact design
Adata XPG Lancer – A Cheaper DDR5 Memory for Gaming
Capacity: 16GB (1×16) | Clock Speed: 5200MHz | CAS Latency: 38 | Voltage: 1.25V
Reasons to Buy:
Low cost
Great value for the money
Overclocking
What Type of Performance You Can Expect:
This memory is ideal for budget gaming builds. 16GB would be enough for current generation games, but it's not made for heavy multitasking like content creation plus gaming at the same time.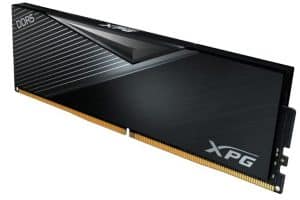 ---
The Adata XPG Lancer comes with a single 16GB DDR5 stick for gaming builds. Everyone knows that 16GB is the bare minimum these days for effective gameplay. To be honest, a 16GB DDR5 RAM that comes with a clock speed of 5200MHz would perform way better than any 16GB DDR4 kit.
This 16GB DDR5 kit is typically cheaper than similar spec DDR5 modules on the market. This one is a non-RGB module, but you can opt for the RGB version if you are a fan of fancy lights spreading in your chassis.
Adata XPG Lancer comes with tall heat spreaders which make it a great option for overclocking. Although the overclocking headroom is not too much, it'll deliver a nice punch in performance if you go with it.
The CAS Latency on this kit is lower as compared to other kits on the list. But this won't be affecting the performance too much, at least if you compare it with DDR4 modules. However, this is one of the best DDR5 memory for the money.
Overall, it's cheaper and meets the requirement of most games and applications that we have today. At least you won't be paying for that extra capacity that you'll ever use. If you are purely into gaming, then 16GB is the right memory size to start with.
It's a fast and power-efficient DDR5 RAM for gaming that you can get for a low price.
Ideal performance for a lower price
Easily syncs with most RGB motherboards
Decent room for overclocking
Large heat spreaders can make it difficult to install bulky CPU coolers
Verdict
Finally, these were some of the best DDR5 kits for gaming PC. Our recommendation would be to start with lower capacity and speed. If we had to pick from one of these, then it would be TEAMGROUP T-Force Delta RGB. Not only this RAM kit gives you the most bang for your buck, but it also adds nice looks to your build.
FAQs About DDR5 RAM
Is DDR5 RAM worth buying?
At the time of writing article this article, DDR4 modules are still ruling the market. But DDR5 RAM comes with a higher clock speed and consumes less power as compared to DDR4 RAM. This would give you an extra punch in performance if you deal with content creation tasks.
But when it comes to gaming, there's not much difference in the performance of the DDR5 and DDR4 modules. Also, DDR5 kits are expensive compared to DDR4 kits.
Can DDR5 RAM work on DDR4 compatible motherboard?
Although both generations share the same 288 pins configuration, a DDR5 RAM cannot sit on a DDR4 DIMM slot due to the different position of the notch.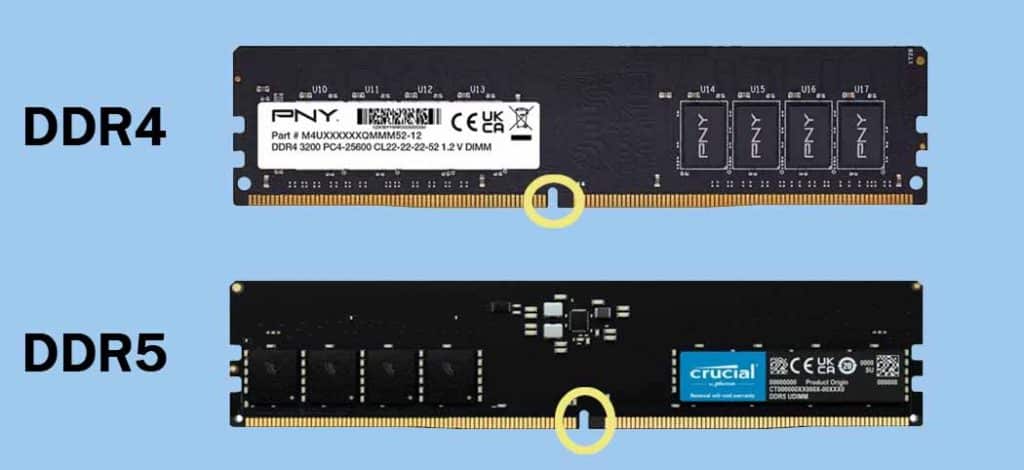 What's the best clock speed for DDR5 RAM?
For a basic gaming build, you can start with a 4800MHz kit. For mid-range and high-end gaming PCs, it's better to go choose between 5200MHz and 6000MHz RAM modules.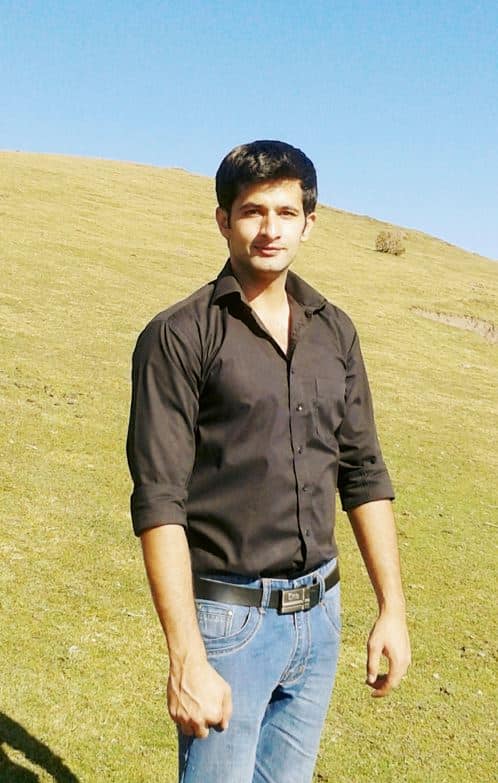 Hi, my name is Masab, a die-hard PC enthusiast and founder of this blog. I love to share my prior experience with computers on this blog. Ask me anything about building a PC or troubleshooting PC errors, I'm here to help.