If you frequently play multiplayer games on your PC, then you'll have to make sure that you have a faster Wifi card for a stable internet connection. A good Wifi gaming card comes up with a higher bandwidth, improved antenna design, and increased frequency range for a lag-free gaming experience. All of this helps in improving the connection quality while reducing any chances of disconnectivity.
With the increasing demand for streaming multiplayer games online, the demand for a reliable Wifi card has also increased at the same time. And the purpose of this guide is to list some of the top gaming Wifi cards to enjoy seamless and lag-free gaming sessions.
Quick Shopping Tips
When shopping for a wifi gaming cards, here's what you need to look for:

Wi-Fi Standard: It's better to go with cards that come with the latest wifi standards such as at least 802.11ac (Wi-Fi 5) or higher standard. The latest wifi standard would help in improving the network speed and efficiency.

Bandwidth: The bandwidth refers to the amount of data that is transferred over the network in a given time. Just make sure that the card you choose supports dual-band or tri-band connectivity. A dual-band wifi card is ideal for networks with frequencies ranging between 2GHz and 5GHz. Whereas the tri-band cards are good for frequencies over 5GHz.

Transfer Speed: The transfer speed is usually measured in megabits per second (Mbps) or gigabits per second (Gbps). It's better to go with a wifi gaming card that at least comes with a 2400 Mbps transfer speed.

Interface: Wifi cards come with different interfaces, the most common ones being the USB and PCI-Express interface. If you have a desktop gaming PC, then simply go with a PCI Express interface wifi card. And if you have a gaming laptop, then you'll need to go with the USB variant.

Range: This is the factor that usually depends upon your own personal preference. If your wifi router is within your room, then a wifi card with a limited signal range will just do the job.
However, if your internet router is far away from your computer, then you'll have to go with a wifi card that has a long signal range. A wifi card with dual antennas will definitely help in stretching the signal range at this point.
To improve the range of your WiFi connection, it's better to go with a WiFi card that comes with at least two antennae. Make sure you put focus on the quality of those antennae too.

Brand: Always opt for a reliable brand when it comes to wifi cards. By doing so, you'll end up buying a wifi card that is made up of quality parts and has a warranty period.
List of the Best WiFi Cards for Gaming
Here are the top recommendations from our side:
| | | | | |
| --- | --- | --- | --- | --- |
| Product | Standard | Speed | Bandwidth | Interface |
| TP-Link WiFi 6 AX3000 | WiFi 6 802.11ax | 2400 Mbps | Dual Band 2.4GHz, 5GHz | PCI-Express |
| Fenvi AX210 | WiFi 6E 802.11ax | 5400 Mbps | Tri-band 2.4GHz, 5GHz, 6GHz | PCI-Express |
| Gigabyte GC-WBAX210 | WiFi 6E 802.11ax | 2400 Mbps | Tri-band 2.4GHz, 5GHz, 6GHz | PCI-Express |
| Rosewill AC1900PCE | WiFi 5 802.11ac | 1300 Mbps | Dual Band 2.4GHz, 5GHz | PCI-Express |
| Ubit AX210 | WiFi 6E 802.11ax | 5400 Mbps | Tri-band 2.4GHz, 5GHz, 6GHz | PCI-Express |
Comparison table of all WiFi cards on the list
TP-Link WiFi 6 AX3000 – Overall Best
Standard: WiFi 6 802.11ax | Speed: up to 2400 Mbps | Bandwidth: Dual-band 2.4Ghz, 5GHz | Interface: PCI Express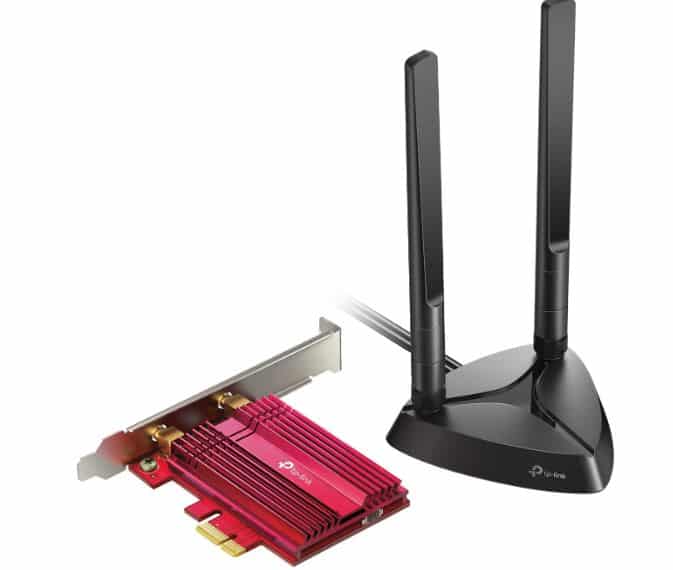 The TP-Link WiFi 6 AX3000 is one of the simple and easy to use wifi cards for gamers and streamers. It delivers ultra-low latency which matters a lot when it comes to playing multiplayer games over a busy network.
Moreover, TP-Link has introduced the OFDMA and MU-MIMO technology for improved latency and improved bandwidth to deal with intensive tasks mission-critical voice calls and video streaming.
This WiFi card comes with two high-performance antennas to extend the signal range in your room or gaming studio. So this card can receive good WiFi signals even if your main router is far away or out of sight. And its magnetized base allows you to put it anywhere on your desktop or metallic surface where you receive good signal strength.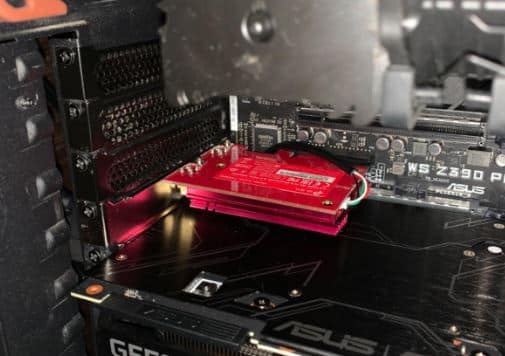 With a transfer rate of up to 2402 Mbps, the TP-Link WiFi is a good start for casual gamers who are streaming games from a home network. It's an ideal wifi card for playing online games and streaming 4K videos as well.
TP-Link WiFi 6 AX3000 is very easy to set up, all you need is to plug this card into your PCI Express slot. It comes with a CD that includes the drivers, and if somehow you don't have a CD/DVD ROM, then you can simply download the drivers from TP-Link's official website.
Fenvi AX210 – Best Performance WiFi Card for Online Gaming
Standard: WiFi 6E 802.11ax | Speed: up to 5400 Mbps | Bandwidth: Tri-band 2.4GHz, 5GHz, 6GHz | Interface: PCI Express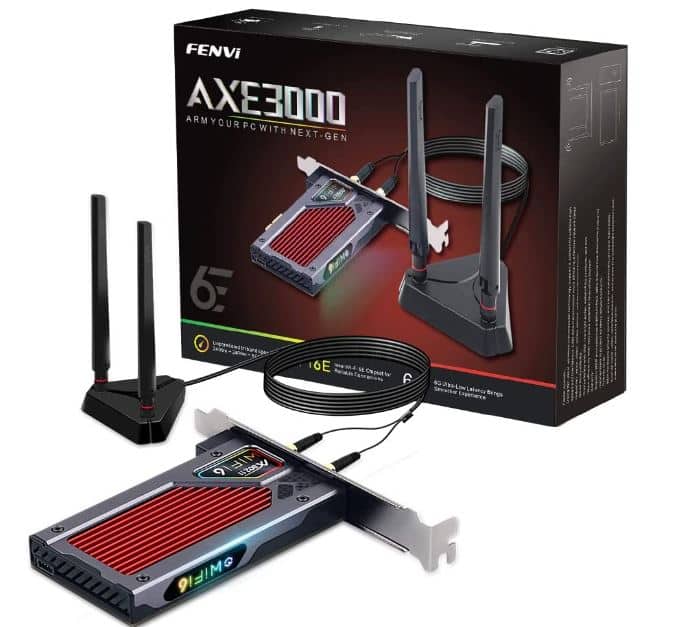 If you want a step up from the TP-Link AX3000, then the Fenvi AX210 offers the best value for your money. This card supports the 6GHz bandwidth, which means you can push your gaming experience to the next level if you have a WiFi router that comes with tri-band support.
Right out of the box, the Fenvi AX210 offers native support for WiFi 6E, which is an advanced standard over the previous WiFi 6. But as we've discussed earlier, to get full advantage of this standard, you'll need to connect this card to a WiFi 6E-compatible device.
AX210 can achieve transfer speeds up to 5400 Mbps, but this high speed is limited to dual-bandwidth connections. On the 6GHz band, the transfer speed falls down to the least standard (2400 Mbps). However, even at this transfer rate, the AX210 shows up as a good choice for online gaming and streaming HD content.
Just like the TP-Link AX3000, the Fenvi AX210 also has two antennas sitting at the top of a magnetized base. However, the signal reception strength of the antennas found on AX210 is way better than the antennas found on TP-Link AX3000.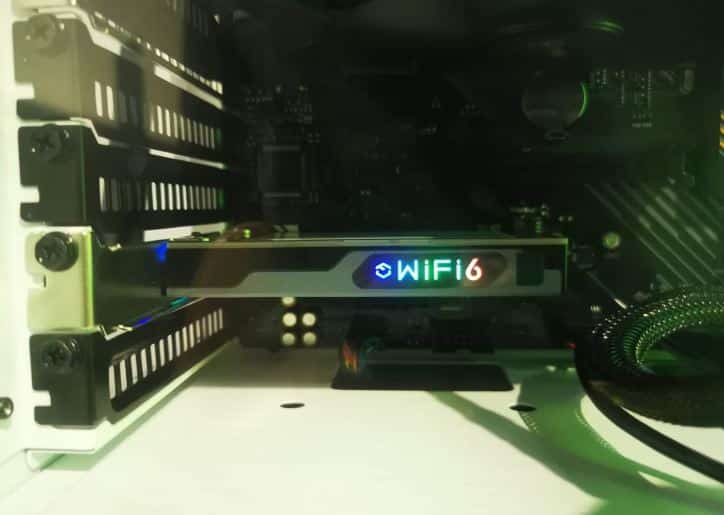 In order to improve signal transmission, the Fenvi AX210 comes up with Bluetooth 5.2. This helps in improving the signal strength four times as compared to the previous Bluetooth versions.
Overall, this is a high-end Wifi gaming card that gives you the right bang for your buck. It supports tri-band connections and has eye-catching aesthetics with an illuminated WiFi 6E RGB text. To make it durable, Fenvi has included the card inside a metallic casing, which again adds an appealing look to it.
If you are a hardcore gamer looking for a WiFi card that offers low latency, higher speed, and stunning design at the same time, then Fenvi AX210 is for you.
GIGABYTE WiFi 6E GC-WBAX210 – Best Inexpensive Pick for Gamers
Standard: WiFi 6E 802.11ax | Speed: up to 2400 Mbps | Bandwidth: Tri-band 6GHz | Interface: PCI Express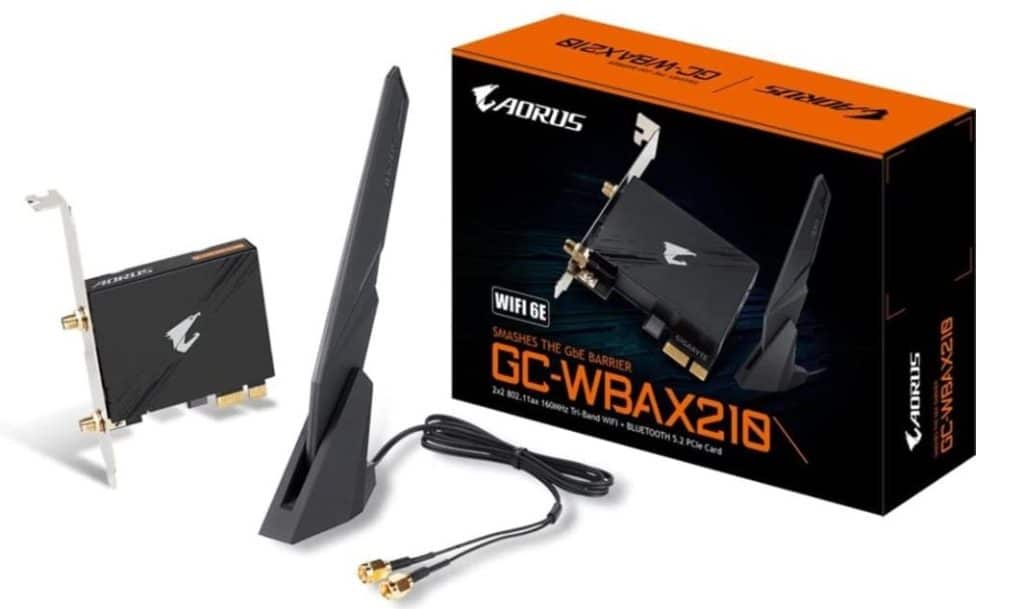 The Gigabyte GC-WBAX210 is infused with all the ingredients that you'll mostly find on the previous WiFi cards on this list. However, the Gigabyte GC-WBAX210 is priced between the TP-Link AX3000 and Fenvi AX210.
This is a 6GHz band WiFi gaming card that allows you ultra-low latencies and higher transfer bandwidth at the same time. But just like the Fenvi AX210, this WiFi card also required you to have a tri-band supported router to get the maximum performance out of it.
GC-WBAX210 card hits a maximum speed of 2400 Mbps to enjoy a lag-free online gaming experience and video streaming. It supports the dual-stream wireless connection in the 2.4GHz, 5GHz and 6GHz bands.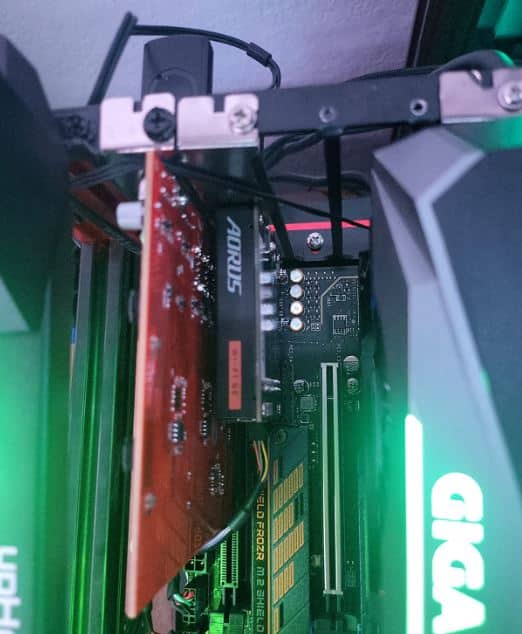 With Gigabyte GC-WBAX210 there's only a single antenna, which has a very trendy Gigabyte kind of looks to it. But regardless there's one antenna, and the signal reception on this WiFi card is very strong.
To be honest, I've found the antenna on this WiFi card to be more appealing than the classic-looking antennas on other products. If somehow your signal strength is weak, you can get an advantage from the "Signal Boost" option found in the Gigabyte AX210 driver software utility.
The installation of the drivers for this product is super easy. But just make sure you install the drivers first before installing this WiFi card on your motherboard. Also, there's Bluetooth 5.2 support on this WiFi card which you can take advantage of. However, for this to work, you will need to connect this card to a USB 9-pin header on your motherboard via the relevant cable.
All in all, the Gigabyte GC-WBAX210 is a budget-friendly WiFi gaming card with rich features like WiFi 6E and tri-band support. It has super low latency and higher bandwidth so you can keep up to date with every move while playing games like Call of Duty or PUBG.
Rosewill RNX-AC1900PCE – Best WiFi Gaming Card With Long Reception Range
Standard: WiFi 5 802.11ac | Speed: up to 1300 Mbps | Bandwidth: Dual-band 2.4Ghz, 5GHz | Interface: PCI Express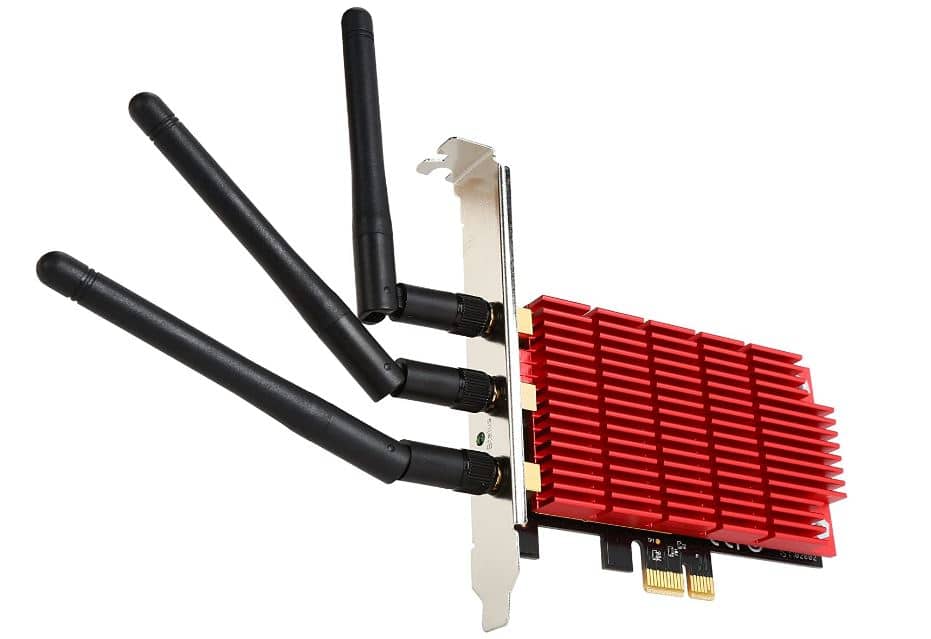 Not everyone needs a WiFi card with the latest features and higher frequencies, and for those users, the least option to go with is the Rosewill RNX-AC1900PCE. It's a WiFi 5 standard card with three powerful signal antennas to receive WiFi signals from routers resting far away from your PC.
This is a dual-band WiFi card that supports the latest 5GHz and older 2.4 GHz frequencies at the same time. The 3 antennas connected to it maximize your wireless range and deliver bandwidth up to 1300 Mbps.
The reason we have included this WiFi card on the list is because of its long-range reception. Sometimes all you need is a good reception and this card holds up to this job like none other.
Definitely, the 1300 Mbps bandwidth is a limited option for someone who is playing games that demand a WiFi card with at least 2400 Mbps bandwidth. But if you are playing games that do not require a high-bandwidth router, then this is the right card for you.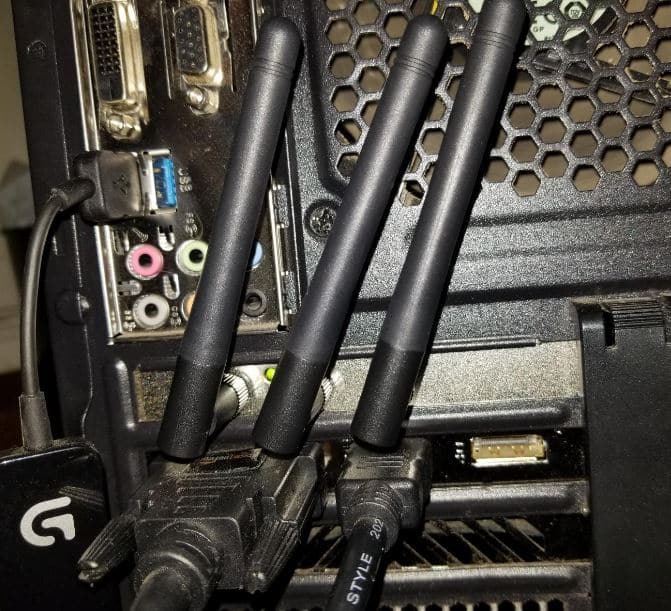 Just to let you know that this is an expensive WiFi card on the list, even if it is not equipped with support for WiFi 6 or 6 GHz frequency.
To me, the factor that makes it an expensive option could be the long signal reception and the cool-looking aluminium heat sink. If your main router is far away, then this could be the right WiFi gaming card to gain fair signal strength for a lag-free gaming experience.
Ubit AX210 – A Low-Budget Pick
Standard: WiFi 6E 802.11ax | Speed: up to 5400 Mbps | Bandwidth: Tri-band 6GHz | Interface: PCI Express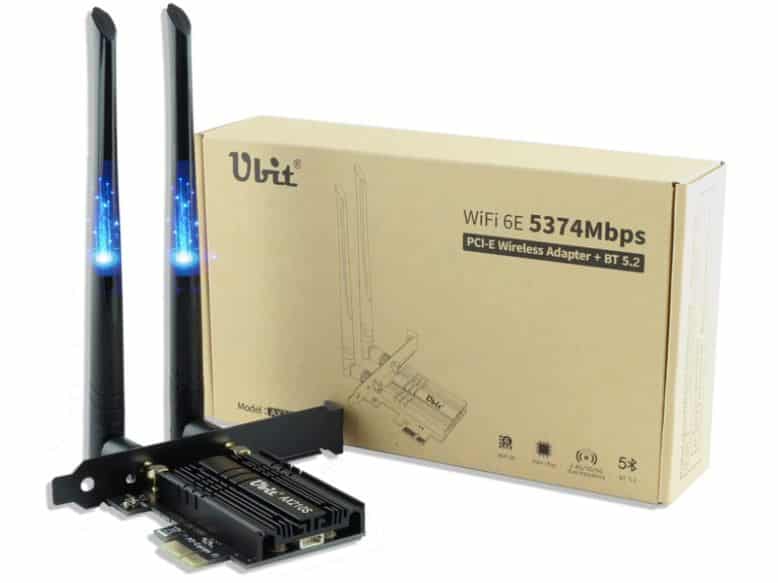 Ubit AX210 is an improvement over the Ubit AX200 which was a WiFi 6 dual-band router with a maximum transfer speed of 2400 Mbps. The Ubit AX210 shows a significant improvement over the previous model and now has WiFi 6E and tri-band support.
Just like the TP-Link AX3000, the Ubit AX210 comes with OFDMA technology which helps in increased efficiency over the network even if there are a lot of devices connected to it. This also helps in zero packet loss, which ultimately means that you'll enjoy every single frame of your online gameplay.
You can also connect this WiFi card to a dual-band network and attain bandwidth up to 5400 Mbps. And if you are connected to a 6GHz frequency, then you can achieve as much as 2400 Mbps bandwidth.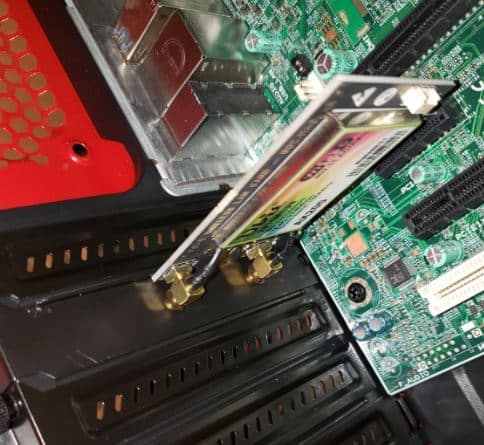 Just like most wireless gaming cards, the Ubit AX210 is equipped with BT 5.2 technology for better connectivity and a faster transfer rate. So there's no need to worry about latency and lag issues while playing your favourite games online.
All in all, the Ubit AX210 is the most economical wireless card with rich connectivity features. It is equipped with beamforming & OFDMA to boost your WiFi experience.
Conclusion
Finally, these were some of the best wireless cards for gaming on the list. If we had to pick from this list, then it would be the Fenvi AX210. The Fenvi AX210 is a WiFi 6E card with strong antennas and native support for tri-band frequencies. It's a great WiFi card with higher bandwidth for a lag-free gaming experience.
FAQs
Are WiFi cards good for gaming?
Although WiFi cards are a great option to go with if you are connected to a game server through a WiFi connection. However, a WiFi connection can be subjected to interference by other devices connected to it, which can result in higher latency when gaming. To improve the quality of online gaming, I personally recommend ethernet cards over WiFi cards.
Is a PCI-e WiFi card good?
In general, PCI-e WiFi cards show improved performance and tend to be faster as compared to USB or internal WiFi adapters. The reason for this is PCI-e WiFi cards are directly installed on the motherboard which reduces the latency.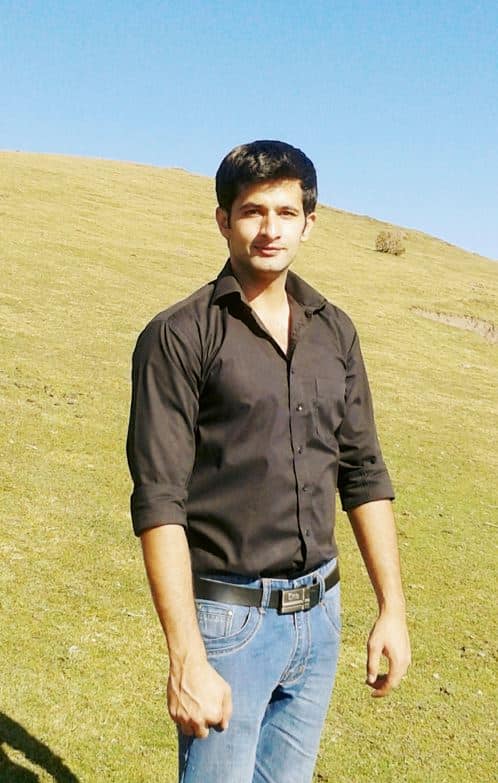 Hi, my name is Masab, a die-hard PC enthusiast and founder of this blog. I love to share my prior experience with computers on this blog. Ask me anything about building a PC or troubleshooting PC errors, I'm here to help.