When your WiFi keeps disconnecting, then there could be several potential reasons behind that. It could be due to weak WiFi signals, an old WiFi router, or the wireless connection itself. This guide covers the most possible reason your device keeps disconnecting from the WiFi hotspot. And with each reason, there's a possible solution to overcome the patchy WiFi connection issue.
Common Reasons Why the WiFi Keeps Disconnecting
Whether you are connecting to a WiFi source for sending emails or joining your teammates on a game server, a bad WiFi connection surely gets on your nerves. Here are some of the most logical reasons your device is unable to maintain a stable connection with your WiFi router.
Internet Speed
The first reason you may have an unstable internet connection is that you have a limited internet speed package. Let's say, for browsing or surfing the internet, a 25 Mbps connection is good enough. But, if there are multiple devices connected to your WiFi router, then each device will share a portion of that speed, and this will ultimately result in a slower or unstable WiFi connection.
As soon as those devices get disconnected from the main router, you may witness a stable connection.
Outdated WiFi Adapter Drivers
One of the reasons behind a weak WiFi connection could be outdated wireless drivers. It's better to update your WiFi drivers to avoid any connectivity issues.
Here's how you can do this:
Go to your "Control Panel" and search for "Device Manager". A new window will pop up, here look for the "Network Adapters" option and right-click on it. See the image below to better understand this: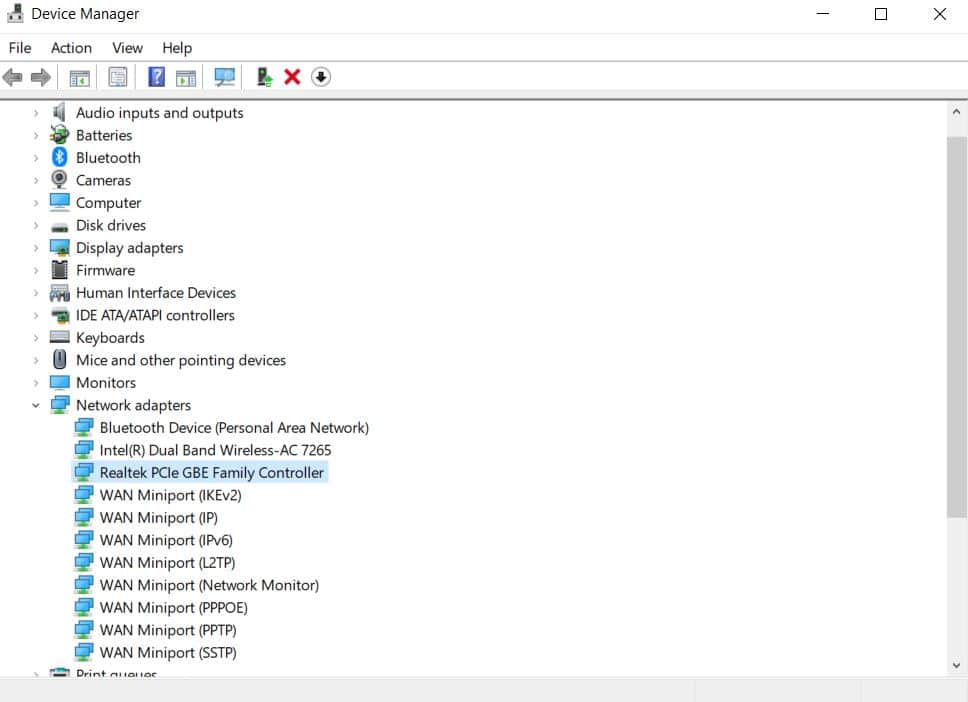 Locate your WiFi adapter driver, right-click on it, and then click on "Update". You will then be asked to update drivers manually or via the internet. I would recommend downloading the drivers first and then manually installing them.
You can also uninstall the previous drivers first and then continue installing the ones that you have recently downloaded.
Hopefully, updating your wireless adapter drivers could fix the WiFi disconnection issue. If the problem still persists, then look out for other reasons we have discussed below.
Check Your DHCP Settings
DHCP or Dynamic Host Configuration Protocol is used to automatically distribute IP addresses to different devices connected to a network. This helps in identifying and distributing data requested by a specific device connected to the router.
The DHCP server is also responsible for assigning network configuration parameters to the device, such as the subnet mask, default gateway, and DNS server information. In general, the role of the DHCP server is to minimize IP conflict among devices.
So, if there's an issue with your DHCP server, you can come up with issues like disconnection, limited internet connectivity, etc.
Here's how you can fix this:
Search for "Settings" in the search bar at the bottom of your screen. Once you find it, look for the "Network & Internet" option.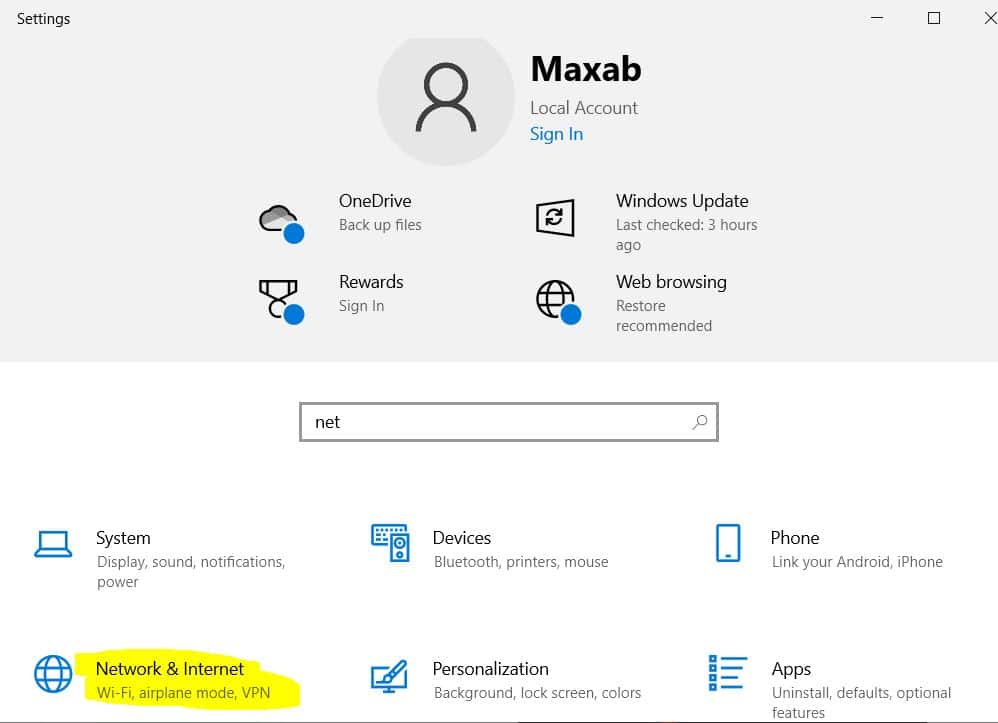 Now click on the "Properties" option as shown in the image below. Now scroll down and you'll see an option that shows "Automatic DHCP". These are the right settings that your connection must show. If don't see the "Automatic DHCP" option, then click on the "Edit" button right next to it and select the "Automatic" option.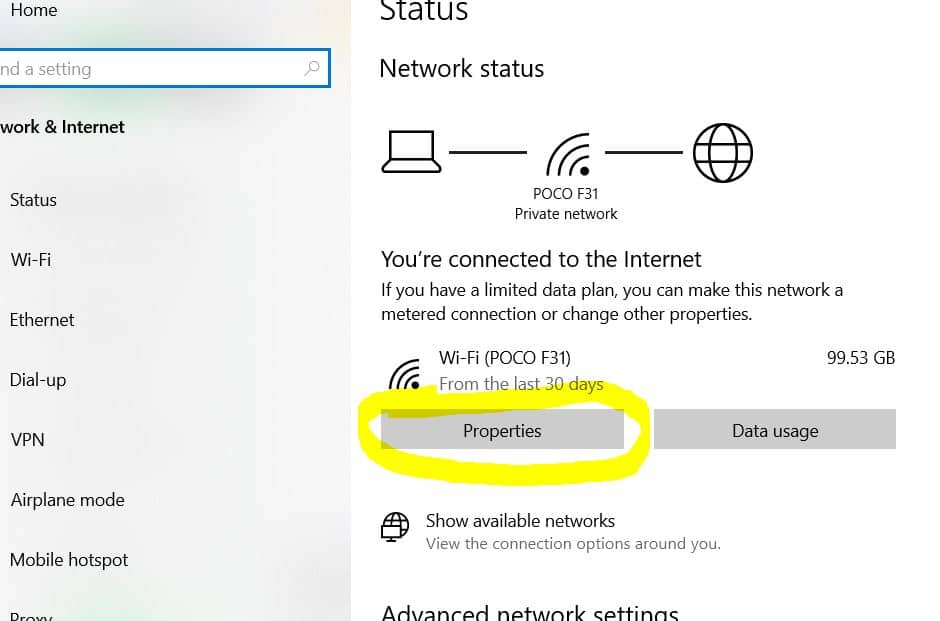 Setting the DHCP to "Automatic"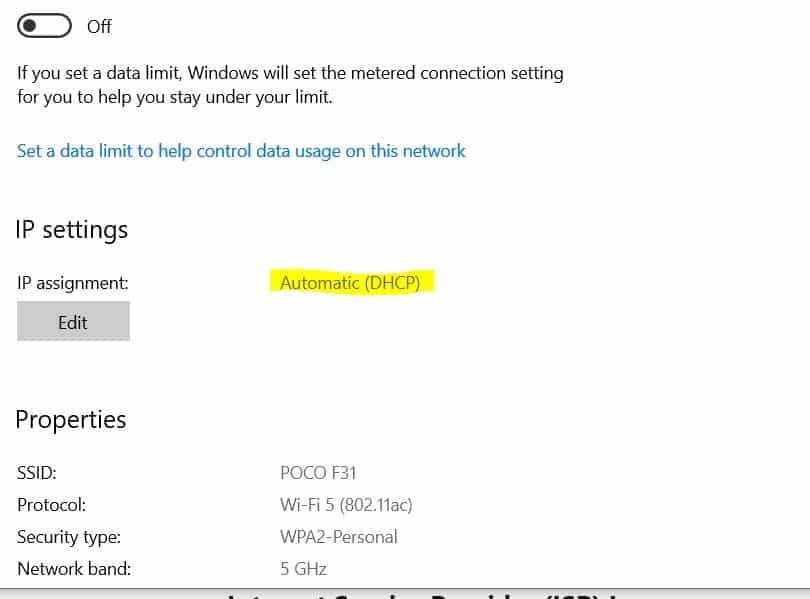 Internet Service Provider (ISP) Issue
I always recommend using a reputable internet service provider in your area. If you go with a cheaper internet service provider, then can catch up with patchy internet connection issues over time.
Sometimes, it could be due to congested traffic through the same router. And if your ISP provider has a limited bandwidth, then this could cause constant WiFi drops over time. A possible solution could be upgrading your current internet plan or changing your internet service provider.
Upgrading WiFi Adapter
The built-in wireless adapter on your laptop or desktop computer can get faulty over time. And if it doesn't get faulty, it may have a weak signal reception range. For browsing the internet and sending emails, a Wifi adapter with weak reception would be a fine thing to go with.
However, if you highly depend on a WiFi connection for doing heavy stuff like gaming, then you may suffer from packet loss or a patchy WiFi connection. So if you are involved in complex workloads like gaming, then it's better to buy a good WiFi card to stay connected to your router.
A poor WiFi signal often results in a disconnection between the devices. And a dedicated WiFi card is the best way to improve your signal reception and avoid any disconnectivity issues.
Outdated WiFi Router
This might sound a bit weird, but some old routers (more than 5 years old) are having issues connecting with the current-generation devices. As your WiFi router ages, it can struggle to maintain a stable internet connection with the device connected to it. Here's a guide that shows signs when you need to buy a new router, and one of those signs is an unstable WiFi connection.
I also remember having an old router that was provided by my internet service provider. And most of the time I turned on my computer, I was welcomed by a limited internet connectivity icon. So, the day I changed my router, this issue was completely gone.
Also, you can try factory resetting your WiFi router to see if that helps you in this regard. But my personal recommendation would be to buy a new router.
Dropped WiFi Connection Fixed
We hope going through all of the above reasons could help you fix the WiFi disconnection issue. In most cases, a dropped internet connection could be due to several devices connected to a network or your distance from the main WiFi router. Try to get close to your WiFi route and see if that helps in stabilizing the connection.
If none of the above is affecting you, then can simply go with updating your wireless adapter drivers or getting a dedicated WiFi adapter. The last option is to change your router if you have an outdated router. Let me know which of these tips helped you in fixing your WiFi connection.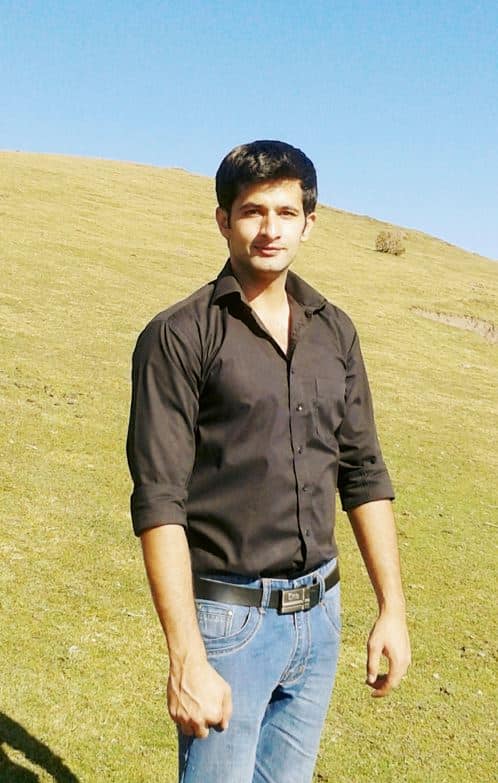 Hi, my name is Masab, a die-hard PC enthusiast and founder of this blog. I love to share my prior experience with computers on this blog. Ask me anything about building a PC or troubleshooting PC errors, I'm here to help.