If you are building a new PC for content creation, then you'll need to put more stress on buying the best processor for your content creation desktop. The type of CPU that you'll choose for content creation depends upon the type of workload that you'll throw on it.
For less intensive content creation tasks like photo editing, and drafting articles, a quad-core CPU will do the job. But for high-end content-creation tasks like rendering 4K videos or 3D rendering, you'll need a powerful processor with more cores and threads.
The CPU market is flooded by chips from Intel and AMD at different budget ranges. And if you have just started content creation then it would be hard to choose the best out of the pool.
Serious content creators always go for AMD as they offer the best value in complex productivity tasks. Also, the AMD chips are cheaper as compared to their Intel counterparts.
This doesn't mean that Intel CPUs are not good at content creation, definitely, they are good. However, AMD CPUs offer the most bang for your money when it comes to creating content.
Quick Shopping Tips
When looking for a processor to create content, here's what you need to look for:
Clock Speed: A CPU with a higher clock speed is faster in rendering individual tasks. So make sure you get the CPU that comes with a higher base clock speed. Faster clock speed makes a CPU quicker in executing single-threaded tasks.
Cores/Threads: If a processor has more cores and threads, then it will simultaneously execute all the tasks that are in the queue. This results in faster rendering in productivity tasks like video editing, 3D animation designing, etc.
Reviews of the Best Processors for Content Creation
| | | | | | |
| --- | --- | --- | --- | --- | --- |
| CPU | Cores/Threads | Base Clock Speed | Boost Clock Speed | Socket | TDP |
| Intel Core i9-12900KF | 8P+8E/24 | 3.2GHz / 2.4GHz | 5.20GHz | LGA 1700 | 125W |
| AMD Ryzen 9 5950X | 16/32 | 3.4GHz | 4.9GHz | AM4 | 105W |
| AMD Ryzen 9 3900XT | 12/24 | 3.8GHz | 4.7GHz | AM4 | 105W |
| AMD Ryzen 7 2700X | 8/16 | 3.7GHz | 4.3GHz | AM4 | 105W |
Before the arrival of Intel's Alder Lake CPUs, AMD owned the crown for being the best in productivity tasks. But with the entrance of Intel's 12th generation processors that pack high single-core performance, more clocks, and high IPC count, the table is tilting away from AMD. But AMD still has the last weapon to unleash in content creation, the Threadripper!!!
Intel Core i9-12900KF – Overall Best CPU for Content Creators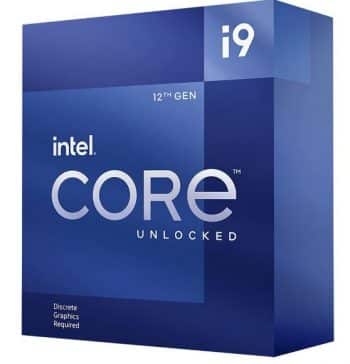 Core i9-12900KF is the fastest CPU for content creation workloads. It offers excellent single and multi-threaded performance. Moreover, it's reasonably priced as compared to its other family members
The Core i9 12900KF falls into the higher-end category of Intel's Alder Lake line-up. With its powerful specs, it sweeps away its AMD counterparts in complex creativity workflows. The Core i9-12700KF is remarkably faster in productivity workloads giving a tough time to all Ryzen 5000 Series CPUs.
With 16 cores (8P+8E) and 24 threads, the Core i9 12700KF equalizes the competition with AMD's Ryzen 9 chips. In some multi-threaded productivity benchmarks carried out in Cinebench, it makes the more expensive AMD Ryzen 9 5950X CPU eat the dust.
Let's split down the productivity performance into two sections, single-threaded and multi-threaded. The 24-thread Core i9 12700KF takes advantage of the x86 hybrid architecture to sweep away the 32-thread Ryzen 9 5950X in multi-threaded tasks.
If we calculate the maths, then the Core i9 12700KF is 1.5% faster in single-threaded and 3% faster in multi-threaded tasks as compared to the Ryzen 9 5950X. It's worth mentioning here about the P/E cores on this CPU that intelligently shift the workload where needed.
With Windows 11 Operating System, the Core i9 12700KF delivers faster rendering performance in applications like Adobe Premiere Pro and Adobe Photoshop/Lightroom. Likewise, the Alder Lake platform dominates the light-threaded tasks like MS Office, Web Browsing, etc.
Yes, you'll get the most out of this CPU if you pair it with the Windows 11 operating system. The P/E cores on Alder Lake chips are efficiently used by Windows 11 as compared to Windows 10. So, make sure you have Windows 11 installed on your system to get the most out of Core i9 12700KF.
All in all, the Core i9 12700KF is meant for someone with professional creativity needs. It's a great chip to go with if you rely heavily on multi-threaded workloads. You'll get the most performance out of this CPU if you edit HD photos, render 4K videos, or create 3D animations.
But before you make up your mind about this chip, just be sure that you have a new LGA 1700 motherboard in your chassis. Also, you'll have to set your budget aside if you need to unbox this processor.
AMD Ryzen 9 5950X – Best Value Processor for Productivity Workloads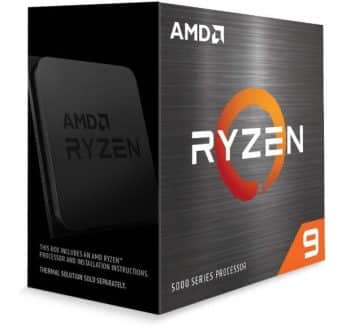 The Ryzen 9 5950X is powered by AMD's Zen 3 architecture to chew any type of productivity workload that you'll throw it's way. It delivers leading performance in multi-threaded tasks while consuming less power.
The Ryzen 9 5950X sits in the top tier of the Zen 3 line-up to deliver immense performance in heavy productivity workloads. It's a 16-core and 32 threads processor that trade blows with some of the top-end chips in Intel's Alder Lake Series.
When it comes to productivity applications, the Ryzen 9 5950X sits right next to Intel's Core i9 12700K CPU.
The Red team's Ryzen 9 5950X is slightly more expensive than its little sibling, the Ryzen 9 5900X. But it also packs more performance juice when it handles different productivity metrics.
With a base clock speed of 3.4 GHz and boost clock speed up to 4.9 GHz, the Ryzen 9 5950X chews the toughest of workloads.
On paper, the Ryzen 9 5950X has more clock speed on each of its cores to deliver ideal single-core performance. But Intel's Core i9 12700KF comes with P/E cores that utilize the workload way better than non-P/E core processors.
And as we've discussed earlier, the performance of Ryzen 9 5950X is closer to Core i9 12700KF when using Windows 10. But this doesn't mean that Ryzen 9 5950X will lose the battle to Core i9 12700KF in Windows 11.
Previously, AMD was blamed for not being too good in a single-threaded application. But Ryzen 9 5950X has turned the table all the way to AMD. This processor delivers tremendous performance in single as well as multi-threaded workloads.
All of this credit goes to the Zen 3 architecture that has put AMD back in the game. Intel CPUs show decent performance in single-threaded POV-Ray workloads, but AMD chips right next to them with a close margin.
In light-threaded tasks like web browsing and MS Office, Zen 3 puts the Ryzen 9 5950X at the top of the content creation CPU hierarchy. If you are looking to build a faster productivity computer, then Ryzen 9 5950X is the right deal to go with.
According to Pugetsystems, most CPUs in the Ryzen 5000 line-up, including the Ryzen 9 5950X beat their Intel counterparts while delivering fast performance in Adobe Photoshop, Adobe Premiere Pro, and DaVinci Resolve studio.
Also, in live playback and export performance along with 4K and 8K codecs, the Ryzen 9 5950X scores closer to the Core i9 12700K. But it wins over the previous generation 3950X with a huge margin.
Overall, the Ryzen 9 5950X is meant for professional content creators who deal with large projects. It ties in with Intel's Core i9 12700K in most productivity metrics. Also, the price tag on both CPUs is somewhat closer to confusing you with which one to go with.
AMD Ryzen 9 3900XT – Best Price to Performance Ratio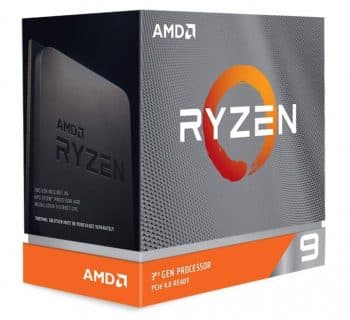 A great option for productivity-based workstation desktops. It squeezes out more performance juice in content creation workloads at an affordable price.
The AMD Ryzen 9 3900XT is known to dethrone many high-end CPUs in Intel's Tiger Lake line-up. It packs a little bit more base clock speed as compared to its elder sibling, the Ryzen 9 3950X.
Overall, there are 12 cores and 24 threads on this processor to grind heavy productivity loads. Also, each core is clocked at 3.8 GHz with enough headroom to boost up to 4.8 GHz under full load. On paper, the Ryzen 9 3900XT looks somehow similar to the older Ryzen 9 3900X.
It just has an extra 100 MHz clock speed right out of the box. Apart from this, the only difference is the absence of a Wraith CPU cooler.
The "XT" version does not come with a stock cooler. Other than this, the cache, cores, and threads are the same on the 3900XT version as they were on the 3900X model.
The Ryzen 9 3900XT gives you a 4% uplift in video encoding performance as compared to the 3900X version. Also, during our tests, we found the Ryzen 9 3900XT favoured the Adobe-based applications.
In Adobe After Effects benchmarks, the Ryzen 9 3900XT manages to throw 14% extra performance juice as compared to the Ryzen 9 3900X and Intel Core i9 10700K.
Similarly, in Adobe Photoshop benchmarks when you apply a lot of filters, the Ryzen 9 3900XT shows 10% gains over the Ryzen 9 3900X and Core i9-10700K. The only chip that manages to beat the Ryzen 9 3900XT is the Core i9 10900K.
Overall, the Ryzen 9 3900XT goes gives tough competition to Intel's Comet Lake chips in content creation tasks. It's also reasonably priced for the type of performance it delivers in single and multi-threaded applications.
Lastly, if you have a mind to go with this, then don't forget to choose a motherboard that comes with a PCIe 4.0 interface. AMD recommends going with an X570 mobo to get the most performance out of this CPU.
AMD Ryzen 7 2700X – A Cheap Content Production CPU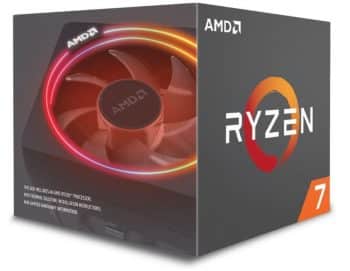 It's the most affordable processor meant for content makers. Highly compatible with older 300 Series motherboards.
The Ryzen 7 2700X belong to the times when Intel was more dominant in the single-threaded CPU market. However, we cannot neglect the power this CPU packs in multi-threaded applications.
It comes with 3.7 GHz and a boost clock speed of 4.3 GHz to beat its Intel counterparts. Technically, there are 8 cores and 16 threads on this processor, which are enough to tackle the light to mid-level content creation workloads.
In Cinebench R15 single and multi-threaded benchmarks, the Ryzen 7 2700X easily beats its competitor, the Intel Core i5 8700K. And the reasons Intel gets beaten here is the fewer core as well as the lower clock speed on each core.
However, if we put the Ryzen 7 2700X one on one with other CPUs on our list, then won't be a fair thing to do. It's evident that the Ryzen 7 2700X is built on older architecture and is a no match to Ryzen 9 5950X and Ryzen 9 3900XT.
But for content creators who just need a CPU to edit YouTube videos in Adobe Premiere Pro or Final Cut Pro, this is the cheapest option to go with. It packs plenty of performance juice to chew any content creation task that you'll throw on it.
Overall, the Ryzen 7 2700X is meant for budget-oriented content creators who don't want to spend extra money on a high-end CPU. 2700X is compatible with older 300 Series AMD motherboards.
The only thing that we really didn't like about this CPU is the higher power draw. It consumes more power under full workloads. So, you'll have to buy a reliable aftermarket CPU cooler to quench its thirst.
Benchmark Scores of All Processors on the List
To find out how much performance juice all of these CPUs have to offer, we ran Adobe Premiere Pro benchmarks. Within these tests, our prime focus was on the live playback and export performance at 4K resolution.
| | | | | |
| --- | --- | --- | --- | --- |
| 4K H.264 150 Mbps 8-bit | Intel Core i9-12900KF | AMD Ryzen 9 5950X | AMD Ryzen 9 3900XT | AMD Ryzen 7 2700X |
| Multi-Cam Live Playback (full resolution) | 61.02 | 14.39 | 3.09 | 3.13 |
| Standard Live Playback (full resolution) | 59.10 | 58.54 | 49.64 | 47.87 |
| 2x Forward Live Playback (full resolution) | 117.16 | 95.81 | 89.25 | 87.25 |
| 4x Forward Live Playback (full resolution) | 174.29 | 34.93 | 33.12 | 33.01 |
| Standard Export (H.264 40 Mbps UHD) | 118.50 | 113.12 | 109.42 | 109.39 |
| Overall Video Export Score | 106.01 | 63.25 | 56.90 | 56.13 |
All of these CPUs were tested at their default clock speed. The reason we opted for Adobe Premiere Pro is that it's widely used by content creators for rendering videos these days.
Verdict
So, these were some of the best processors for content creation workloads. If you are building a workstation for creating high-quality content, then you'll have to opt for a faster processor. Both AMD and Intel offer CPUs that deliver the best value in productivity tasks.
If you don't care about the budget, then we'll recommend you go with Intel Core i9 12700KF. It comes with P/E cores and a higher clock speed to chew complex productivity workloads. You can easily do video editing, 3D designing, and other intense creation tasks.
And if you are a budget-oriented creator, then the Ryzen 7 2700X is the cheapest processor you can get right now. It comes with 8 cores and 16 threads to deliver decent performance in a workstation PC.
FAQs
Which is Better for Content Creation, Intel or AMD?
AMD offer more flexibility when it comes to productivity tasks. The multi-thread performance on AMD CPUs is faster as compared to previous-generation Intel chips. However, the Intel Alder Lake CPUs offer tough competition to some of the top-end CPUs in the Ryzen 5000 line-up.
How many cores do I need for content creation?
If you are dealing with lighter content creation tasks, then four cores are enough to do the job. But if you are dealing with complex or professional productivity tasks, then go for a CPU with at least six or eight cores.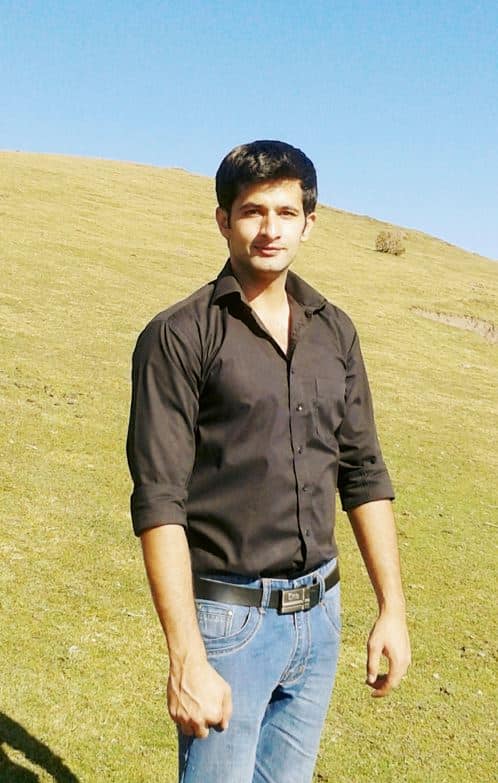 Hi, my name is Masab, a die-hard PC enthusiast and founder of this blog. I love to share my prior experience with computers on this blog. Ask me anything about building a PC or troubleshooting PC errors, I'm here to help.